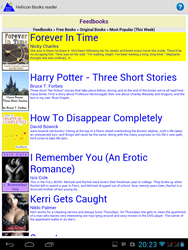 Hertzelia, Israel (PRWEB) September 17, 2013
Helicon Books, EPUB3 consulting and service company, announces a new EPUB3 reading application for Android.
The new EPUB3 Reader, available now on Google play, supports direct purchasing of ebooks from online stores supporting the Open Publication Distribution Standard (OPDS).
The new reader emphasizes advanced technologies as well as ease of use.
It currently supports EPUB3 and EPUB2 reflowable ebooks only, and is based on the Readium open source API. This is available for customization and white label licensing.
The reader is available for free download from Google Play.
The reader supports the following main features:
*OPDS - direct connection to online ebook stores for direct purchasing and downloading of books.
*RTL language support including right to left page progression direction.
*User interface in English or Hebrew translatable to any other language.
*Full support for CSS styling for reflowable books.
*SVG (Scaleable Vector Graphics) and interactive SVG.
*JavaScript support.
*EPUB3 Footnotes handling.
*Bookshelf
*EPUB3 and EPUB2 Table of contents support
*Settings: font size, line spacing, background (white or black)
*Built in support for all screen sizes and orientations
*MathML - Mathematical equations (requires internet connection)
Ori Idan, Helicon Books CEO, says, "Most eBooks sold today are reflowable, it seems that many Android EPUB reading do not respect styling such as headings, drop caps, etc. used by many book designers. It seems that most reading systems concentrate on fixed layout and neglect the reflowable books support. Also, many reading systems are not connected to online stores and do not support direct purchasing of digital books. Even if they do, they are usually limited to specific vendor's library. The Helicon Books reader makes it easy to read any EPUB3 or EPUB2 reflowable book from any publisher and connect to any OPDS enabled book store or library."
Purchase ebooks directly from the reader
OPDS - Open Publication Distribution System is an open standard based on RSS/Atom that enables book stores to publish their contents in a format readable by reading applications. Helicon Books Reader has the option to display contents from stores supporting OPDS. The reader presents book categories, sub-categories , ebook description, cover image, etc, and enables direct ebook purchasing.
Language options
Helicon Books Reader supports left to right (LTR) and right to left (RTL) languages.
The reader senses the user interface language of the Android system and if possible uses it for its user interface. It currently supports any language for reading books, and English or Hebrew for the user interface.
Accessibility features
In order to facilitate reading, users can enlarge the letters, enhance the line spacing and change the background from white to black. The enhanced line spacing and font zooming features helps the visually impaired and people with hyperactivity disorder to read books.
Leveraging open source technology
Building around Readium leverages the power of the community in order to give best EPUB3 Reader. Readium provides an API for building an EPUB3 Reader. Helicon Books Reader is built around this API.
Advertising ebook libraries with Helicon Books Reader
Helicon Books enables publishers who wish to promote their ebook stores and libraries with the Helicon Books Reader. Helicon Books Reader is a free app built to serve all android users around the world. Publishers can add their OPDS catalogue to the default list of catalogues in Helicon Books Reader.
Customer customization
Customers can have any customization they require including connection to the publisher's store to enable direct purchasing of ebooks from the reader. Connections can be two ways, the reader can transmit reading statistics back to the publisher to enable the publisher to suggest books to the reader based on their reading preferences. Publishers can also purchase a white label license with their personal logo and customizations. The logo appears in the splash screen and as a small icon on the top of each screen. Contact Helicon Books for pricing.
About Helicon Books
Helicon Books is a service and technology company assisting publishers to introduce and adopt advanced technologies for digital books.
Helicon Books provide tailor made software for publishers including book stores, online readers, and reading applications for Android and iOS with white label licensing.
Website: http://www.heliconbooks.com/