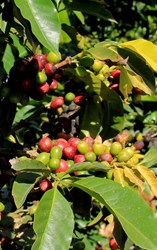 Our goal for Cima Coffee Farms is to become the go-to company for anyone looking to purchase premium investment real estate in Latin America. -- James Cummiskey
Medellin, Colombia (PRWEB) September 17, 2013
Cima Coffee Farms this week announced it has officially launched as a standalone real estate concern dedicated to the sales of prime agricultural property: primarily half-acre parcels of specialty coffee farms in Latin America to individual investors.
Cima currently offers farmland for sale in Colombia, the world's top producer of washed Arabica beans used in many of the highest quality specialty coffees. Spun off from parent company Logistics Latin America, Cima operates as a sister company to Tierra Cafetera, which provides farm management and services to investment farmland owners and to Coffee Latin America, which handles distribution of the green beans and roasted coffee to retail and other market channels.
Through a combination of sustainable techniques and processes that improve the growing conditions, financial incentives and benefits for the farm workers, Tierra Cafetera offers Cima owners the ability to increase ROI by transitioning crops to higher priced, specialty grade coffee beans.
"Our goal for Cima Coffee Farms is to become the go-to company for anyone looking to purchase premium investment real estate in Latin America," says James Cummiskey, Managing Director of Tierra Cafetera / CEO Logistics LatinAmerica. "And the good news is we have barely scratched the surface of the potential that's represented in the vast quantity of Latin America farmland awaiting our development and expertise in sustainable improvement."
Colombia is the fourth largest producer of coffee and the third largest coffee exporter according to the US Department of Agriculture. The Food and Agricultural Organization of the United Nations ranks Colombia in the top ten percent of countries with a potential in farmland expansion area that can be developed without affecting the natural forest area. Colombia's farmland potential growth is an estimated 14.5 million hectares. Yet, Colombia has one of the lowest arable land usage rates in Latin America, with barely eight percent of the potential arable land currently used.
While currently focused on Colombia, Cima will soon begin expanding its offerings to farm land investment opportunities in Ecuador, Nicaragua and Peru, with the longer term goal of eventually offering investors diversified and bundled land opportunities across 13 Latin American countries.
About Cima Coffee Farms
Cima Coffee Farms (Cima) provides individuals the opportunity to own fractional titled parcels of land in coffee-producing farms in Latin America. Using agronomically and economically sustainable farming techniques to improve the yield and quality of coffee, Cima provides the potential of a long-term, low-risk and moderate return for each property owner. In co-operation with its sister company Tierra Cafetera, Cima ensures that a steady supply of coffee is produced and sold, allowing the farm parcels managed by Tierra Cafetera to generate income annually for distribution to both the property owners and tenant farmers. For more information, visit http://www.cimacoffeefarms.com or call (855) 999-CIMA.