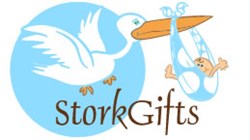 St. Louis, MO (PRWEB) September 18, 2013
StorkGifts now offers complimentary shipping to the contiguous United States. Express shipping is also offered on many products for a nominal fee. The company can also ship items to Hawaii, Alaska, and Canada for an additional fee. Company president, Melissa Chelist states, "Some items are able to be shipped overseas. Customers should contact StorkGifts for specific item availability and international shipping rates."
Since all the items are custom made to order, the production time may take up to 4 weeks, which can be longer during the holiday season. In order to more effectively service customers, StorkGifts is now offering a complimentary email gift notification. An email can be sent to gift recipients to inform the gift recipient that a personalized children's gift has been ordered and it will be delivered directly once it has been crafted. StorkGifts provides this service to customers free of charge.
StorkGifts also offers a gift notification card that can be sent via mail to notify the gift recipients of the gift items. The card is a great option for customers who want something to take to a baby shower, baptism, or first meeting. The charge to have the customized card sent is $4.00.
Chelist states, "Since all StorkGifts items are handcrafted and custom-made, there is a longer production time than items that are pre-made and kept in an inventory. StorkGifts customers often want the parents of newborns to know that there is a gift purchased and on the way. StorkGifts has been offering the gift card option for a couple of years on some of the products. Seeing a desire from customers to send a notification for other products and realizing that not everyone wants to spend the extra money or needs a physical card, StorkGifts developed a system in which the customer could notify the family via email."
A point of pride for StorkGifts is how the company caters to customers and tries to make lives simpler for customers. Providing quality customer service is of the utmost importance to StorkGifts.
###
About StorkGifts:
St. Louis, MO resident Melissa Chelist owns and runs StorkGifts, an upscale online boutique specializing in quality custom-made personalized gifts for babies and children. Melissa and now ex-husband started the company in January of 2003 when internet shopping was just becoming widespread. In 2005 when Chelist's youngest child went to pre-school, Chelist took over managing the company and has done so ever since. StorkGifts carries more than 75 different types of personalized children's gifts and other items, all of which are custom-made with the customer's choice of color, design, and personalization. Known for its high-quality products, StorkGifts offers many made-in-the-USA products and prides itself on professional, top-notch customer service. For more information, please visit http://www.storkgifts.com.