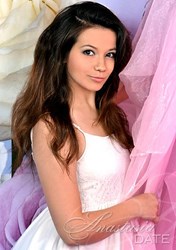 AnastasiaDate.com is pleased to announce the latest updates for the mobile app. The new updates will make every member's mobile dating experience even more enjoyable.
(PRWEB) September 18, 2013
AnastasiaDate.com, the top international dating service, announced recently that it has made further improvements and added new updates to its mobile app which is available on Google Play. The app, which was successfully launched a few months ago, is proving to be an extremely popular addition to the company's dating services.
The app has been downloaded by thousands of members since its launch, and it continues to attract the interest of existing members and brand new members too. They are all using the app regularly so they can enjoy AnastasiaDate.com wherever they are. Mobile technology is huge today, and every aspect of our lives is being influenced by the ease and speed of mobile technology. Information and services are available at the touch of a button thanks to mobile Internet.
AnastasiaDate.com members are benefitting from this technology twenty-four hours a day so they can enjoy international dating whatever the time is and in any location. The app is the perfect way for members to make sure they never miss an important message from someone special.
The AnastasiaDate.com mobile app can be downloaded from Google Play free-of-charge. With the app, members can access their accounts, browse profiles, check messages and also send messages. They can also connect with other members and chat, just as they would on a pc or laptop.
The company has been receiving excellent feedback from users of the app who are rating it highly and praising it in reviews. AnastasiaDate.com told us that the latest update has made more improvements to the user interface of the app, making it even easier to use. The improvements have been developed to enhance a member's dating experience via a mobile device.
The company is dedicated to maintaining its position as one of the world's leading online dating services. As a result, it is always working hard to make sure its systems are regularly improved and developed on an ongoing basis. AnastasiaDate.com has a long-term plan of updates and improvements in place for all its services and member facilities. The plan will keep the entire team busy in the coming months.
And with over four million members, the company will certainly be extremely busy. The international nature of the service means that the website, the app, and all the member facilities must be working perfectly and accessible 24 hours a day. As a result, AnastasiaDate.com is constantly on call, working hard to ensure every member can enjoy a special and exclusive online dating experience whenever they choose to log on.
Members can relax and enjoy chatting to each other as they form friendships with interesting and attractive international ladies and gentlemen. Behind the scenes, the AnastasiaDate team is working hard making sure all systems are running smoothly so new romances can blossom undisturbed.
Mr. Lawrence Cervantes, Chief Communications Officer of AnastasiaDate, says, "AnastasiaDate.com is pleased to announce the latest updates for the mobile app. The new updates will make every member's mobile dating experience even more enjoyable. The team is looking forward to receiving feedback about the latest update. AnastasiaDate works hard to ensure every member is able to enjoy dating wherever they are, at any time that suits them."
About Anastasia Date
AnastasiaDate is the leading international dating service that facilitates exciting and romantic companionship with beautiful and interesting women from all over the world. Founded in 1993 by a Russian-American couple, AnastasiaDate now has over 4 million international users and attracts more than 10 million online visits monthly. Additionally, over 1.5 million conversations are exchanged onsite daily. AnastasiaDate is committed to member safety, customer satisfaction and the ongoing pursuit of innovation. Headquartered in Moscow and New York with additional representation in every country it touches, AnastasiaDate provides a high level of customer service to a worldwide clientele. AnastasiaDate users are able to communicate across a variety of top-notch multimedia platforms, including Video Chat and a mobile app for Android devices available in the Google Play store.