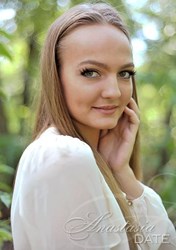 (PRWEB) September 19, 2013
Anastasia International is one of the world's leading dating websites. The company recently welcomed hundreds of new members to the site. The new members are a group of beautiful European ladies who were attracted to the site after hearing news of the successful dating experiences from other ladies around the world.
Anastasia International is a website which is renowned for the quality of its service and its members. Over 4 million members from all over the world enjoy dating on a daily basis. They join so they can enjoy connecting with attractive, interesting and successful ladies and gentlemen.
The majority of male members are from North America and most are highly successful professionals in business and industry. They are attracted to the high quality service, the unique facilities and, of course, they are keen to connect with the many beautiful women who are available on the website. Anastasia International is successfully providing a unique combination of technology, state-of-the-art online dating and the world's most attractive people.
It is no surprise that the company is growing in popularity at such an amazing rate. It has so many members who are keen to meet someone special and achieve their dreams. Simply by logging on to the website, they have the opportunity to talk to and meet attractive single people from many countries all over the world. Anastasia International is proud of its reputation as a leading online dating service, providing high quality premium dating for discerning and successful individuals.
The European ladies who recently joined have already started to enjoy their online dating experience. Membership gives them the chance to relax in safety and security, as they chat and meet handsome men from across the ocean. Interesting conversations, blossoming romance, and even love can happen with an Anastasia International membership.
By using the latest advances in web technology, and creating a beautiful and innovative website, Anastasia International is attracting the most successful people. Business experts, entrepreneurs, models, and media professionals are particularly attracted to the exclusive service which offers far more than other ordinary dating websites.
The exclusivity of the service, the high calibre of the members, and the international flavour of the website is making Anastasia International a formidable force within the online dating industry. The company told us that it is working hard to maintain its high reputation as one of the world's best, and there is little doubt it will achieve this aim.
Membership figures have been growing every month. This most recent influx of beautiful women will result in even more growth, as male members join up so they have the chance to meet these lovely ladies!
AnastasiaDate is the best option for any individual who is looking for an exclusive service where they can connect with the most beautiful ladies, and enjoy the real benefits of 21st century dating. They will find their perfect mate is right there, waiting to be discovered on AnastasiaDate.com.
About AnastasiaDate
AnastasiaDate is the leading international dating service that facilitates exciting and romantic companionship with beautiful and interesting women from all over the world. Founded in 1993 by a Russian-American couple, AnastasiaDate now has over 4 million international users and attracts more than 10 million online visits monthly. Additionally, over 1.5 million conversations are exchanged onsite daily. AnastasiaDate is committed to member safety, customer satisfaction and the ongoing pursuit of innovation. Headquartered in Moscow and New York with additional representation in every country it touches, AnastasiaDate provides a high level of customer service to a worldwide clientele. AnastasiaDate users are able to communicate across a variety of top-notch multimedia platforms, including Video Chat and a mobile app for Android devices available in the Google Play store.