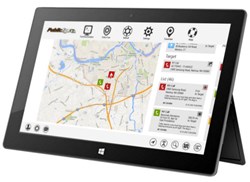 Nashua, NH (PRWEB) September 17, 2013
Zco Corporation's PublicEye® is a comprehensive mobile app designed for public safety (Police, Fire & EMS). PublicEye is currently available for iOS, which includes the Apple iPhone and iPad series, as well as the suite of Android devices. At the first Police Innovation Conference held September 16-17 at Microsoft's New England R&D Center, Zco is proud to announce support for Windows 8 & RT smartphones and tablets. These devices, such as Surface tablets and Windows phones, will have access to PublicEye for law enforcement and emergency response.
Businesses that use smartphones and tablets in their workflows experience faster response times, increases in productivity, and budgetary savings. These advantages are now available for everyone in public safety – several communities are already benefiting from PublicEye's ability to deliver and share information. The vision behind PublicEye is a world where public safety runs on smartphones. From the governor to the mayors, police and fire chiefs, first responders, volunteers, and even the public, everyone works together for public safety.
PublicEye provides situational intelligence by visually displaying sources of information such as CAD/RMS data, public and private databases, surveillance systems, and social media feeds. On a real-time map, PublicEye users can be notified of incoming 911 calls as well as nearby hazards – this can range from gang hangouts and outstanding warrants to directed patrol points and customizable buildings of interest.
The mobile app architecture facilitates transparent, intuitive information sharing. Command staff and officers can see the location of each PublicEye user and quickly send text, pictures and stream video. Multi-jurisdictional support allows police, fire, and neighboring jurisdictions to access the same information for mutual aid and response. With the addition of Windows 8 & RT support, municipalities can deploy a wide range of devices without issues of compatibility or fear of compromising security. PublicEye will be available on Windows RT at the end of Q1 2014. For more information and to register for a free web demo, visit http://www.publiceyes.com.
About Zco Corporation
Founded in 1989 and headquartered in Nashua, New Hampshire, Zco Corporation has served Fortune 20 companies to small businesses for over 20 years. Zco is one of the largest custom mobile app developers in the world. Its services include 3D animation and games, augmented reality and custom software. In addition to Zco's work for hire, it has the mobile public safety product, PublicEye. To learn more about PublicEye and join an interactive webinar, visit http://www.publiceyes.com.