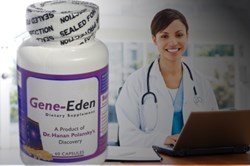 Recognizing the symptoms is the first step. The second obvious step is, once you realize there is a herpes infection, you must wonder if there is a treatment for it. We're happy to let the public know that the answer is yes. – Mike Evans, polyDNA
Rochester, NY (PRWEB) September 17, 2013
polyDNA's August survey showed that respondents didn't know what symptoms are typical of a genital herpes infection.
In the open comments section, Mike W. of Cincinnati asked, "What do you do if you think you're partner might have herpes? I mean, personally I was grossed out. But, you know, how do you ask a woman that? How do you ask her if she's having an outbreak? I was just so embarrassed!"
The CDC says on its website that "Most individuals infected with HSV-1 or HSV-2 experience either no symptoms or have very mild symptoms that go unnoticed or are mistaken for another skin condition (1)."
The CDC continues, "Because of this, most people infected with HSV-2 are not aware of their infection. When symptoms do occur, they typically appear as one or more blisters on or around the genitals, rectum or mouth. The blisters break and leave painful sores that may take two to four weeks to heal. Experiencing these symptoms is sometimes referred to as having an 'outbreak.' The first time someone has an outbreak they may also experience flu-like symptoms such as fever, body aches and swollen glands (1)."
The CDC also says, "Repeat outbreaks of genital herpes are common, in particular during the first year of infection. Symptoms of repeat outbreaks are typically shorter in duration and less severe than the first outbreak of genital herpes. Although the infection can stay in the body indefinitely, the number of outbreaks tends to decrease over a period of years (1)." The CDC page was last updated on February 11, 2013.
"Recognizing the symptoms is the first step. The second obvious step is, once you realize there is a herpes infection, you must wonder if there is a treatment for it. We're happy to let the public know that the answer is yes." – Mike Evans, polyDNA
Gene-Eden-VIR is a natural herpes remedy that boosts the immune system against the latent herpes virus. A recent post marketing clinical study published in the peer reviewed, medical journal Pharmacology & Pharmacy, in a special edition on Advances in Antiviral Drugs on August 12, 2013 showed that Gene-Eden-VIR is safe and effective (2). Up to 70% of those studied reported a decrease in viral symptoms (2).
Each ingredient of Gene-Eden-VIR was chosen through a scientific approach. Scientists scanned thousands of scientific and medical papers published in various medical and scientific journals around the world to identify the safest, most effective natural ingredients that target the latent form of herpes. (2)
To learn more about Gene-Eden-VIR and herpes, visit http://www.gene-eden-kill-virus.com/Herpes-Remedy.php. All orders of Gene-Eden-VIR are completely confidential, and no information is shared or sold to any third party. Privacy is assured.
Reference:
(1) http://www.cdc.gov/std/herpes/stdfact-herpes.htm
(2) http://www.scirp.org/journal/PaperInformation.aspx?PaperID=36101
polyDNA is a biotechnology company that develops dietary supplements using the unique scientific method developed by Dr. Hanan Polansky, which is based on Computer Intuition.
In addition to his unique scientific method, Dr. Polansky published the highly acclaimed scientific discovery, called Microcompetition with Foreign DNA. The discovery explains how foreign DNA fragments, and specifically, DNA of latent viruses, cause most major diseases.
polyDNA developed Gene-Eden-VIR , an antiviral natural remedy that helps the immune system kill latent viruses.