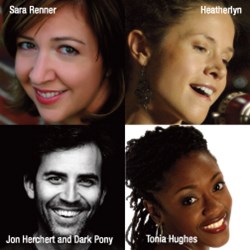 Mahtomedi, MN (PRWEB) September 16, 2013
Several Twin Cities musicians will headline a free outdoor concert on Friday, Sept. 20, from 4 to 7 p.m. at St. Andrew's Lutheran Church in Mahtomedi, Minnesota. The public is invited to this event which features free family entertainment and free food.
The featured bands include Minneapolis recording sensations Sara Renner and Tonia Hughes, as well as soul rock artist Heatherlyn, and renowned Jon Herchert and his band, Dark Pony.
During the three-hour concert, families may also enjoy a petting zoo, horse-drawn hay wagon rides, inflatable fun, arts and crafts, face painting, cake walk, games, and more. All entertainment, food, and music is free of charge and all are welcome.
St. Andrew's Lutheran Church is located at 900 Stillwater Road, Mahtomedi, Minn. Directions and more information can be found at http://www.saintandrews.org. Please contact Carrin Mahmood at 651-762-9119 for more information.
About the Church:
St. Andrew's Lutheran Church is a community of faith that welcomes all. They invite individuals to come as they are. They are there to help people grow in faith and to equip them to use God-given gifts to make a difference in the world in the name of Christ.
They strive to provide worship experiences that draw people closer to a loving God. With the resounding Casavant Organ in the Main Sanctuary or the rocking, contemporary worship in the Great Hall, they are dedicated to pointing all people to Jesus Christ.
Their traditional worship service uses the gifts of the nationally recognized Casavant Organ, stellar choirs and dynamic preaching. The contemporary worship service is an assembly of some of the best bluesy rock in the state. Firm biblical preaching and weekly Holy Communion are offered to all people for a transformational experience that lasts a life time.
St. Andrew's is a participating member of the ELCA. Visit their website to see their schedule of events and worship http://www.saintandrews.org.