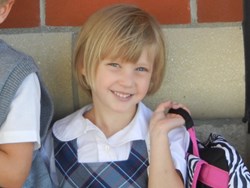 'What keeps us driving to Everest is the outstanding curriculum combined with exceptional teachers,' - says Jeff Spansail an Everest parent from LaGrange Park
Lemont, IL (PRWEB) September 24, 2013
It has been four years since Everest Academy, opened its doors in 2009, on Bell Road in Lemont, IL. This year the doors were held open slightly longer in order to welcome a large number of new students. Enrollment at Everest has increased 37% pushing the enrollment from approximately 150 students to over 215 students. The new students entering Everest are at all levels from preschool through eighth grade and coming from all over the southwest side of Chicago. This is the second year in a row in which Everest has experienced significant growth in its student body.
If you look closely through the doors on Bell Road, you will note that Everest continues to educate and cultivate a true love of learning in its students whether the student is a preschooler, who is just starting to build a foundation of the lifelong skill of critical thinking and reasoning, or a middle school student, who is looking to expand his/her breadth and depth of knowledge in preparation for high school.
The Everest advantage that has attracted a number of families to the growing school is the students and alumnae themselves. According to Elaine Fleck, a member of the faculty since 2006, the Everest student stands apart. "People see this and wonder why. It has never been difficult to spot a student from Everest Academy. Our students shake hands with adults, hold doors for others, and exemplify Christ's virtues in their daily lives. They are well-mannered, well-behaved, yet also quite intelligent. This is a school where students come to be challenged and are eager for the experience." The alumnae go on to the high schools of their choice including Mount Assisi, Benet Academy, Providence Catholic, Montini, and St. Ignatius. The alumnae are participative citizens and effective leaders in their perspective high schools and various communities.
Parents from near and far are drawn by the different aspects of education that Everest has to offer. Some families come searching for solid spiritual formation for their children. Other families are drawn by the character development program and service initiatives which stand out as unique yet much needed in today's world. For many families it is the schools challenging and balanced academics that bring them to Everest. The academic program includes music, Spanish and public speaking as part of its regular curriculum. All families that attend Everest receive personalized attention to help and support their child on the journey to becoming the best citizens they can be. Lynn Nackovic, a parent of a kindergartener from Mokena, notes, "the commitment to excellence and the personalized attention" that has drawn her family to Everest.
Jeff Spansail, who is the father of a first grader and fourth grader and who drives thirteen miles each way to get to Everest from LaGrange Park, feels that Everest is well worth the trip. "The small class size is what made us decide to come to Everest Academy. However, I can honestly say that what my son, Jacob, learned in one year at Everest, at most schools would take three years to learn. What keeps us driving to Everest is an outstanding curriculum combined with exceptional teachers which has produced some terrific years that we look forward to replicating this school year."
Everest Academy is an independent Roman Catholic school in Lemont educating children from preschool through eighth grade. The teachers and staff are dedicated to forming the whole child by providing the highest level of academics, by building strong character, and by preparing generous leaders ready to serve the community. If you would like to learn more about Everest Academy's unique approach to education, please contact Coleen Mast at 630-243-1995 or visit http://www.everestadvantage.org.