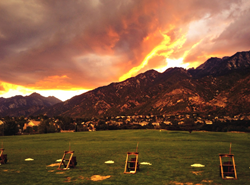 Salt Lake City, UT (PRWEB) September 16, 2013
Salt Lake Community College (SLCC) held the first Gail Miller Utah Leadership Cup golf tournament on Monday, September 16, 2013 at the Hidden Valley Country Club in Sandy, Utah. The tournament is named in honor of Gail Miller. Miller is Chairman of the Board of the Larry Miller Group of Companies and Chair of SLCC's Board of Trustees.
Utah Governor Gary Herbert, Salt Lake County Mayor Ben McAdams, Utah Congressman Jim Matheson, Utah Senate President Wayne Niederhauser, Utah Speaker of the House Rebecca Lockhart, Utah State Representative, Stewart Barlow, and Former Utah State Legislator Haven Barlow were among the leaders on hand for the College's signature fundraising event. Barlow served in the Utah State Legislature for 42 years—longer than any other legislator in Utah history.
Kurt Kragthorpe from the Salt Lake Tribune, 'DJ & PK' from 1280 the Zone Sports Network, Mary Nickles, KUTV Channel 2 News Anchor, Wesley Ruff ABC Channel 4 Sports Anchor, three-time WNBA All-Star and ABL MVP Natalie Williams, joined Craig Bolerjack, Ron Boone, and Steve Brown from the Utah Jazz broadcast team as media celebrities at the event.
The format for the 18-hole tournament was a team scramble. Featuring a shotgun start, four-person teams started simultaneously on Hidden Valley's Lakes and Valley nine holes.
All proceeds from the Gail Miller Utah Leadership Cup are used for scholarships for SLCC students. All event proceeds are used for SLCC scholarships.
Founded in 1959, Hidden Valley Country Club's golf course is one of Utah's premier courses.
For more information, contact Anne Marie Jensen, Corporate Sponsorship and Development Officer at (801) 957-4155 or annemarie.jensen(at)slcc(dot)edu.
About the College: Salt Lake Community College is an accredited, student-focused, urban college meeting the diverse needs of the Salt Lake community. Home to more than 62,000 students each year, the College is the largest supplier of workforce development programs in the State of Utah. The College is the sole provider of applied technology courses in the Salt Lake area, with 13 sites, an eCampus, and nearly 1,000 continuing education sites located throughout the Salt Lake valley. Personal attention from an excellent faculty is paramount at the College, which maintains a student-to-teacher ratio of less than 20 to 1.