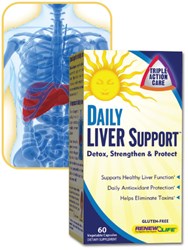 Formulated to support healthy liver function, eliminate toxins and provide daily antioxidant protection.
Clearwater, FL (PRWEB) September 17, 2013
The Toxic Truth
"Today, Americans are exposed to more toxins than ever before," says Brenda Watson, Public Television and national health educator, and President and Founder of ReNew Life. "Over 80,000 environmental chemicals are in use today with over 1,000 being added each year. Toxin exposure is linked to a number of negative health effects. And it can contribute to common health complaints like fatigue, skin issues and digestive disturbances. That's why we need to support the most important organ in the body for detoxification—the liver."
Watson went on to explain that new Daily Liver Support is a liver detoxification supplement that was formulated to support healthy liver function, help eliminate toxins and provide daily antioxidant protection for people concerned about exposure to environmental toxins. It is a comprehensive, daily, liver health maintenance formula designed to aid in proper liver detoxification, strengthen liver health and protect the liver's cells with key antioxidants. The single formula is comprised of three targeted blends:
Detox Blend features liver-supporting herbs and amino acids that promote bile flow for toxin elimination.
Strengthen Blend provides milk-thistle extract with silymarin—the best-studied herb for healthy liver support.
Protect Blend combines antioxidant-rich herbs with turmeric extract, an important antioxidant which studies show can support healthy inflammation response by helping neutralize free radicals.
Daily Liver Support is available in a concentrated, vegetable-capsule formula containing only natural ingredients with no artificial ingredients, binders, or fillers.
About ReNew Life
ReNew Life Formulas was founded in 1997 by Brenda and Stan Watson and offers a full spectrum of award-winning, digestive-care supplements and functional foods. Each ReNew Life product is made from only the finest raw ingredients. The company's analysis, educational materials, customer service and superior manufacturing practices all set the benchmark for others in the industry. Above all, ReNew Life is dedicated to helping their customers achieve and maintain optimal health, increase energy and enhance mental clarity.
For additional information on new Daily Liver Support from ReNew Life, please contact bcooper(at)renewlife(dot)com.