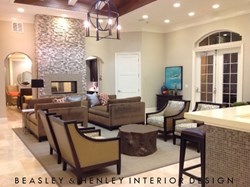 Beasley & Henley's interiors at Casa Mirella reflect the design that is demanded by today's increasingly sophisticated renter.
(PRWEB) September 18, 2013
Award-winning interior design firm, Beasley & Henley Interior Design has completed the luxury apartment complex, Casa Mirella for Unicorp National Development in Ocoee Fl, near the prestigious community of Windermere. The 100 acre site was originally planned as a housing development but with the market turn in housing and increased demand for apartments, developer Chuck Whittall of Unicorp changed his plans.
Beasley & Henley Interior Design created the interiors for this $40 million gated complex to appeal to the high-end renter. The main Clubhouse and Cyber Café designs are distinctly modern with sleek, comfortable furnishings and impactful modern artwork. The color palette is earthtones with punches of grey-blue. The finishes include travertine stone flooring in the main Club, stained oak wood flooring in the Cyber Café, a stacked marble and travertine stone fireplace, and wood tongue and groove ceiling. The Cyber Cafe also showcase a built-in TV/bookcase in cream tones accented with a modern, pewter-wash overlay.
The Model by Beasley & Henley showcases the high end finishes available in the rest of the 216 units at Casa Mirella, including granite countertops, stainless appliances and high end details to appeal to this sophisticated segment of the renter market. The interior design team, under the direction of Troy Beasley, created a lifestyle through its interiors that showcase the spacious floor plan, casual living and elegant design available in apartment life.
Beasley & Henley was pleased to work with architects Slocum Platts Architects PA and builder Roger B Kennedy.
Beasley & Henley is pleased to continue its alliance with growth-focused Unicorp. The design team is currently working on several Unicorp projects.
--------------------------------------------------------------------------------------------------------------------------------
Beasley & Henley Interior Design is a boutique interior design firm creating innovative and memorable interior spaces, uniquely suited to our client's needs and specific goals. Our services include interior detailing, specifications, drawings, interior design and furnishings. For more information on Beasley & Henley Interior Design or any of our award winning interiors, please call us at407-629-7756 or visit us at http://www.BeasleyandHenley.com.