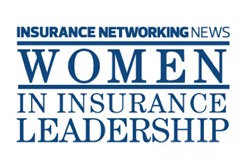 'These women are leading the way for others, both within their own companies and within the insurance industry,' said INN Editor-in-Chief Carrie Burns. 'The innovation and dedication they exhibit – and their achievements – are truly inspirational.'
Chicago, IL (PRWEB) September 16, 2013
Insurance Networking News (INN), the trusted information resource about technology for the insurance industry, today announced the winners of the 8th annual Women in Insurance Leadership (WIL) Awards.
Since 2006, INN's Women in Insurance Leadership program has honored the extraordinary accomplishments of more than 60 professionals whose leadership and performance have redefined the insurance business and its application of technology.
The 2013 Women in Insurance Leadership honorees are:

Robin Arendt, Global CIO, XL Group (nominated by FirstBest Systems and XL Group)
Patricia Coffey, SVP, Technology and Operations, Allstate (nominated by IBM)
Alice Gannon, SVP and Chief Actuary, USAA (nominated by The Nolan Company)
Sabrina Hart, EVP and Chief Underwriting Officer, Global Corporate in North America, Zurich NA (nominated by Zurich NA)
Elizabeth Heck, President and COO, Greater New York Mutual Insurance (nominated by Insurity)
Susan Keisler-Munro, SVP, COO, Assurity Life Insurance (nominated by The Nolan Company)
Denise Lynch, Property & Casualty Group Executive, Kemper (nominated by Kemper)
Marianne Petillo, President and CEO, ROM Reinsurance (nominated by Hyland Software)
Laurie Ranegar, SVP, Operations, Tower Group Companies (nominated by Strategy Meets Action and CEDAR Document Technologies)
Kathleen Tierney, EVP, Chubb & Son, and COO, Chubb Personal Insurance (nominated by Chubb)
"These women are leading the way for others, both within their own companies and within the insurance industry," said INN Editor-in-Chief Carrie Burns. "The innovation and dedication they exhibit – and their achievements – are truly inspirational."
This year, for the first time in the program's history, INN has named a repeat winner: Allstate's Patricia Coffey. Coffey, who last made the list in 2007 when she was VP of Protection Technology, has since risen to the rank of SVP of Technology and Operations and is being recognized for simplifying financial systems, automating procurement processes and boosting Allstate's analytics capabilities, among other achievements.
Insurance Networking News will present in-depth profiles of all ten WIL winners online at http://www.insurancenetworking.com. A WIL special report will be published in INN's October/November 2013 print edition.
A ceremony celebrating the winners' accomplishments will take place at INN's 6th Annual Women in Insurance Leadership Forum, on Oct. 29-30, 2013, at the Intercontinental Hotel in Chicago. The event is dedicated to the advancement and professional growth of women in insurance. Eileen McDonnell, Chairman, President and CEO of The Penn Mutual Life Insurance Co. – one of only two Fortune 1000 insurance companies led by female CEOs – will keynote the educational and networking event.
Any insurance-related company can enter a WIL nomination. Candidates are judged on their performance as well as their overall organizational influence. Each nominee is rated on her job complexity, ability to innovate, management style, and her team's contribution to corporate earnings, among other criteria.
A judging panel of eight 2012 WIL winners made this year's final selections: Laura Bennett, CEO and Co-Founder, Embrace Pet Insurance; Robin Lenna, EVP, Corporate Benefit Funding, MetLife; Seraina Maag, CEO, North America Property & Casualty, XL Group, Insurance; Beth Mercier, VP, Personal Lines, Travelers; Jacquline Morales, SVP, Head of Life Operations, AXA Equitable Life Insurance; Noreen Randazzo, VP and CIO, Enterprise Solutions, The Hartford Financial Services Group; Peggy Rubin, Retired (previously EVP and COO, Columbian Mutual Life Insurance); and Mary Springberg, VP and CIO, Allstate Financial Technology.
For more information on the Women in Insurance Leadership profiles and selection process, contact INN Editor-in-Chief Carrie Burns, carrie.burns@sourcemedia.com. For more information on the Women in Insurance Leadership Forum, contact INN Publisher Holli Gronset, holli.gronset@sourcemedia.com.
About Insurance Networking News
Insurance Networking News is the trusted information resource on how technology supports insurers' strategic business objectives, providing insightful analysis of the technology innovations utilized to automate critical processes. Insurance Networking News is written to help senior insurance executives obtain mission-critical information on resolving industry challenges.
About SourceMedia
SourceMedia, an Investcorp company, is a business to business media and marketing solutions company serving the financial industry and the related fields of professional services and technology. SourceMedia offers its clients and subscribers professional information services, industry-standard research, data applications, in-depth seminars and conferences, and specialized marketing services.