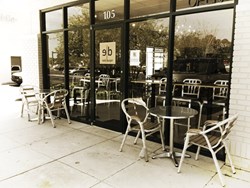 Jacksonville, FL (PRWEB) September 17, 2013
Leading restaurant furniture manufacturer and distributor Affordable Seating recently helped Jacksonville, FL restaurant and Epik Burger launch a successful grand opening with new, quality restaurant furniture.
Epik Burger caters to the burger lovers who want quality, healthy, gourmet quick food in Jacksonville, Florida. At Epik Burger, they strive to provide high quality and innovative burgers utilizing the best ingredients available with a variety of healthy eating options. In addition, they strive to utilize a low frills business model so that customers pay only for great food.
At Epik, their burgers represent the culinary bases of many different countries and cultures or whatever twisted idea they could come up with that tastes great. For the less culinary curious, their Old Skool Burgers are also delicious. For side they offer have skinny, crispy, salty, delicious fries. They also offer sweet potato fries, onion rings, Epik Mac 'n Cheese, or a side garden salad.
Their burgers are Certified Angus Beef or for those looking for the ultimate beef experience they offer Grass-fed Beef as an option. Grass-fed beef offers the most natural tasting beef. For healthy eaters Epik Burger also offers Ahi Tuna, hormone free chicken, or house made veggies burgers on wheat or made a without gluten bun. They also offer gluten-free fries, rolls, sides and desserts. They differentiate themselves from other burger restaurants by also offering brie, foie gras, maître d'butter and a wide ranch of international burgers such as their Thai Chicken Burger. Beer and wine pairings with every burger is another menu option they offer that makes Epic Burger unique.
The owner of Epik Burger offers a unique and eclectic menu, catering to those with savvy taste, so he needed high quality restaurant furniture and low prices so he could keep his costs down. He decided to go with Affordable Seating's Custom Laminate Table Top with T-Mold Edgein 30'" X 30" and 24" X 30" sizes. These premium table tops are proudly made in the USA, which was also important to Epik Burger's owners. The 30" X 30" table tops sell at Affordable Seating for $59 and are available in a variety of sizes and shapes ranging from 24" X 24" to 60" diameter. The 24" X 30" size sells for $49.
The custom laminate table tops are 1-1/8" thick 45 pound industrial grade particle board with horizontal grade laminate and thermally fused backer to complete a finished thickness of 1-1/4". Tops are edged with a high quality extruded rubber t-molding with solid color throughout. Laminate choices available are any Formica, Nevamar, Pionite, or Wilsonart non-premium color.
For the patio, the owner decided to go with round, stainless steel table tops for only $51.50, with a matching 28" diameter base. The steel table tops also come in square sizes too for $54.
For outdoor seating he bought Double Tube and Aluminum Wood Chairs for only $43. The Wood & Aluminum chair is made for commercial use. The commercial strength chair is made from a double tube frame for extra strength and is ideal for outdoor or indoor use.
To view Affordable Seating's full selection of restaurant chairs, bar stools, booths, tables and patio furniture visit http://www.affordableseating.net or call a customer service representative at (888) 495-8884.
Check out Epik Burger's menu at http://www.epikburger.com or call (904) 374-7326 for more details.