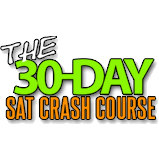 Building a great product is all about listening to your customers - and our customers have made their desire for a quick, all-in-one solution VERY well known to us.
New York, New York (PRWEB) September 16, 2013
Back by popular demand, The 30 Day SAT Crash Course has just been re-launched by renowned SAT tutor Anthony-James Green. The Crash Course, an online SAT prep program, has resulted in student score improvements higher than any comparable program on the market, and Green has decided to reopen the program due to popular demand.
Parents and students interested in learning more about this high-intensity SAT program can do so by visiting the following url:
"The summer was a really exciting time for everyone involved in the project," says Green of the newly re-launched online program. "From December through June, we got a chance to test the program out with its very first group of students. The results were unreal - the average user went up 327 points in 30 days of work, with some users going up by much more. However, as happy as we were with the results, we wanted to make some serious user-experience improvements for the Fall. I just wasn't expecting this level of user demand to come pouring in - September has been pretty hectic!"
The 30-Day SAT Crash Course is a product of Green's extensive experience in coaching the SAT for some of the nation's most ambitious parents. While many of Green's students spend months preparing for the exam, others come to him with an extremely limited timeframe. His 30-day course is the systemetized, scientific program that he's been developing for years to help these last-minute clients.
"In a perfect world, people would spend a year prepping for the SAT," says Green. "If students would spend 10 minutes a day on this test for 365 days straight, they'd be incredibly well-prepared. But that's not realistic for most families. The SAT is often something that needs to be "taken care of," and when that's the case, this program is the best possible option. There are thousands of tips and tricks that students can learn to improve their scores, but this system boils down only the most intense, effective strategies available. I've used the 80/20 principle to create a program that gets enormous results in a very limited period of time, and this far, I've been blown away by how effective the program has been."
The new version of the 30 Day SAT Crash Course has considerable upgrades from its previous edition. In addition to a cleaner, faster user interface, the program now also comes with three free 3rd-party textbooks, Vivid Vocab SAT vocabulary software, and, most importantly, an enhanced and even more effective curriculum.
"We listened to our customers and paid attention to their results," says Green. "While 95% of the program was working, there were a few bumps in the road that everyone seemed to be experiencing. We re-wrote certain sections, adjusted the order of the lessons, and shifted assignments across days to create a more even workflow. So far, based on feedback from our first few users of this season, there seems to be a big improvement."
The 30 Day SAT Crash Course is available for only $297, including all necessary textbooks and materials, and comes with a 30-day performance guarantee. The SAT program is hosted entirely online, and can be accessed globally from any internet-connected device.
Anthony-James Green, the developer of the program, is known as New York's best SAT tutor, and has more than 10,000 hours of hands-on experience with the exam. He's tutored over 345 students one-on-one, with an average score improvement higher than almost any other tutor in the industry. He currently lives between New York City and Los Angeles, where he tutors full-time when not developing his own SAT curriculum.
###