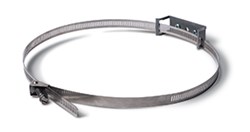 Kansas City, Missouri (PRWEB) September 17, 2013
Rough plumbing manufacturer, Sioux Chief, is pleased to offer a new Expansion Tank Support Kit.
The system is designed to secure expansion tanks to wall studs and is ideal for typical apartment installations where the water heater is installed in a closet.
Expansion tank kits are sold 10 to a case, in two sizes: Kit 598-0210 has a 32.5 inch stainless steel snap-lock band to secure typical 2-gallon tanks. Kit 598-0213 has a 45-inch stainless steel snap-lock band long enough to wrap around 5-gallon tanks. Each band threads through a 16-gauge galvanized steel bracket that fastens to the stud wall with two 2-inch screws.
Sioux Chief products are sold through wholesale plumbing distributors nationwide.
-------
More About Sioux Chief:
Since 1957, Sioux Chief has manufactured innovative plumbing products. It is a leader in providing rough plumbing solutions for residential, commercial, industrial and government applications. Sioux Chief's comprehensive product line is comprised of three core groups: Supply, Drainage and Support. Sioux Chief products are sold to qualified wholesale distributors and retailers worldwide. The company is headquartered in Peculiar, Missouri — just outside of Kansas City. For more information, please call 1-800-821-3944.
Contact Information:
24110 South Peculiar Drive
Peculiar, MO 64078