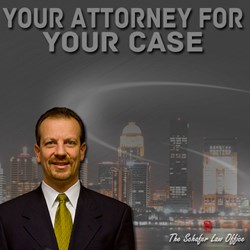 I am really saddened by this tragic event. Donovan is so young and it is heartbreaking to know of him demise.
Louisville, KY (PRWEB) September 18, 2013
In the article entitled "UPDATE: Johnson County boy dies from injuries suffered in car accident", published on wkyt.com, September 9, Donovan Lee Floyd,10, died at a Huntington hospital after suffering severe injuries in a car wreck that happened on September 6 in Prestonsburg.
Attorney Schafer said that motor vehicle accidents or injuries are considered the leading cause of death in the United States. Traffic Safety Marketing provides in its website, http://www.trafficsafetymarketing.gov, that car crashes are the main cause of death for children 1 to 13 years old.
"I am alarmed that car crashes remain to be the leading cause of death among children. In Kentucky alone, the rate of child injuries and accidents is still on the rise. But the truth is that these deaths can be prevented and we can do something to protect our children," Schafer added
With the these alarming figures, Schafer stated that we should improve child passenger safety especially that the nation is celebrating Child Passenger Safety Week from September 15 to 21.
"I urge all parents and guardians to prioritize our children and protect them every time we get behind the wheel. Whenever we drive with them, let us make sure that they wear their seat belts. It is also good if we set as role models; hence, we need to buckle up always. Another thing is to secure your children on child safety seats that are fit for their age, height, and weight. These booster or car seats can save lives if installed and used properly," Schafer concluded.
About Mike Schafer
Mike Schafer is sole practitioner specializing in Civil Litigation including automobile accidents, slip and fall and wrongful death cases. He helps victims of various types of accidents receive adequate compensation. He can be contacted at:
The Schafer Law Office
1218 South 3rd Street, Louisville, KY 40203
Phone: (502) 584-9511
Fax: (502) 636-4702
Toll Free: 855-487-4878