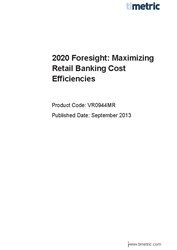 Rockville, MD (PRWEB) September 17, 2013
2020 Foresight Report: Maximizing Retail Banking Cost Efficiencies
Banks across the world are revisiting their operational strategies, branch banking models, distribution channels and expansion strategies to achieve cost efficiencies and increase profits. To increase profitability, the focus is on selling high-margin profitable products and services, and scaling down unprofitable operations.
There has been increased emphasis on utilizing technology to improve profitability and achieve cost efficiencies; the role of technology has changed from being a process driver to a revenue generator. Retail banks are using technology to increase profitability by utilizing customer relationship management (CRM) systems and consumer analytics to identify new customer groups and offer customized products and services to targeted customers. In addition, key measures adopted by retail banks to improve operational efficiencies include an increase in information technology (IT) spending and upgrading IT systems.
This report provides a comprehensive analysis on various strategies adopted by banks to maximize cost efficiencies; provides a snapshot on retail banking market dynamics and profitability outlook; offers and analysis of changing regulation and its impact on branch banking; has detailed analysis of major drivers and challenges impacting the profitability of retail banks; includes best practices case studies.
Key Highlights:
-Global banks are currently seeking opportunities to enter high-growth emerging markets to drive revenues;
-Banks are divesting unprofitable business segments, product offerings and customer groups that are not part of their core business strategy;
-There will be increased investment in self-service and digital media channels to communicate with customers promptly and effectively;
-Banks are expected to increase their spending on integrating distribution channels to provide a seamless customer experience across all distribution channels;
-Use of business intelligence analytics to develop products and services that fulfill the unique needs of customers is expected to be at the core of banks' product-design strategies.
To order this report:
2020 Foresight Report: Maximizing Retail Banking Cost Efficiencies
Contact: Shauna
800.298.5699
Customerservice(at)marketresearch(dot)com
About Timetric
Timetric is an independent economic and business research firm providing critical intelligence on emerging economies and key global industries. We provide detailed economic and sector intelligence, business insights and authoritative, independent commentary.
Timetric's flagship products are economic and industry intelligence centers, which are premium decision tools that provide access to comprehensive research and expert analysis. They provide invaluable decision support presented in easily digestible formats and grounded in deep research.
One of the key components of each of these intelligence centers are the hundreds of high quality research reports across countries, industries and companies, which Timetric produces each year.
These reports draw on in-depth primary and secondary research, proprietary data and high quality modelling and analysis to give you insight into global market and economic dynamics.
About MarketResearch.com
MarketResearch.com is the leading provider of global market intelligence products and services. With research reports from more than 720 top consulting and advisory firms, MarketResearch.com offers instant online access to the world's most extensive database of expert insights on global industries, companies, products, and trends. Moreover, MarketResearch.com's Research Specialists have in-depth knowledge of the publishers and the various types of reports in their respective industries and are ready to provide research assistance. For more information, call Cindy Frei at 240.747.3014 or visit http://www.marketresearch.com/.
Follow us on Facebook http://www.facebook.com/marketresearchdotcom
Follow us on Twitter http://www.twitter.com/marketresearch_
2020 Foresight Report: Maximizing Retail Banking Cost Efficiencies – Table of Contents:
1 Executive Summary
2 Retail Banking Market Dynamics and Profitability Outlook
3 Technology Strategies
4 Product Design and Pricing Strategies
5 Distribution Channels and Consumer Engagement Strategies
6 Expense Management Strategies
7 Appendix
List of Tables
Table 1: Current and Future Drivers of Retail Banking Profitability
Table 2: Impact of Banking Regulations
List of Figures
Figure 1: Market Drivers and Key Challenges
Figure 2: Key Factors for Technological Investment
Figure 3: Technology Strategic Framework for Profitability
Figure 4: Case Study – Bank of Baroda
Figure 5: Case Study – Bank Sohar
Figure 6: Case Study – Capital Bank Signed Up SAS for AML Solutions
Figure 7: Case Study – BCA Deployed AML Solutions From NICE Actimize
Figure 8: Case Study – Citibank Australia
Figure 9: Case Study – Bulbank Bulgaria
Figure 10: Case Study – BankAtlantic
Figure 11: Distribution Channels Best Framework for Profitability
Figure 12: Channel Evolution in Multichannel Banking
Figure 13: Channel Evolution by Products and Services in Multichannel Banking
Figure 14: Next Generation Branch Banking Models
Figure 15: US Bank In-Store Branch
Figure 16: Case Study – Danske Bank
Figure 17: Case Study – BBVA Bank
Figure 18: Case Study – ASB Bank
Figure 19: Snapshot of ASB Virtual Branch on Facebook
Figure 20: Case Study – Maybank
Figure 21: Total Relationship Banking Loyalty Program Offered by Union First Market Bank
Figure 22: Case Study – Mauritius Commercial Bank
Figure 23: Expense Management Best Practices for Profitability
Figure 24: Case Study – Korean Exchange Bank
Figure 25: Case Study – Wells Fargo Bank
Figure 26: Case Study – ABN Amro Bank
Figure 27: ABN Amro's High-Tech Bankshop Facility