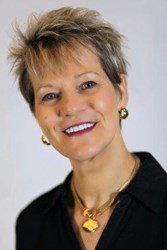 Thought leaders are emerging every day. They realize the power they have through various business channels.
(PRWEB) September 17, 2013
Every day, men and women from around the globe are leaving the false sense of security their corporate jobs gave them to strike out on their own as entrepreneurs.
In answer to this need, Internet marketing adviser, speaker and author, Kathleen Gage, is hosting a three day event for entrepreneurs ready to leave their corporate jobs behind and strike out on their own while making a positive impact in their communities and industries.
Kathleen Gage, International Online Business Strategist, author, award winning speaker, and marketing adviser has made it her mission to teach progressive entrepreneurs how to grow their business with the most current information available.
"It's time to stop listening to corporate BS that has led us to near financial destruction, greed and fear. It's time to take back our power and create our own success. As conscious entrepreneurs we choose the direction we want to go in. We decide to act on the ideas we get. We impact the world in a positive way. This is the very reason I created Power Up for Profits Live!" Gage claims.
From October 11 - 13, 2013, men and women from around the globe will gain insights, training and information on exactly how to build a successful business using both online and offline strategies and systems.
During this three day event attendees will discover how to identify, produce and sell their knowledge so that they can create multiple streams of revenue while making a difference in their market and industry.
Attendees will experience the most comprehensive training available for entrepreneurs who are serious about becoming recognized thought leaders in their industry while making great money doing so.
Additional details may be found at http://www.powerupforprofitslive.com/.
About Kathleen Gage:
Kathleen Gage is the "no-nonsense, common sense" online marketing strategist, speaker, author, product creation specialist, and owner of "Power Up for Profits." Kathleen helps entrepreneurs make money online. Her clients are driven by making a difference through their own unique voice.
Considered to be one of the nation's most passionate speakers, Kathleen is known for cutting through the fluff and helping people to leave their sob stories behind, so they can stop focusing on the past and start looking towards the future. She speaks and teaches about what she believes are the core elements of a successful life: accountability, integrity, honesty, and living with passion and hope.
Gage's mission is to help people understand that their business is merely a means to get their message out to the world. She teaches that it's not just about what you do, but the reasons behind why you do it.
To access more information and high pixel images of Kathleen Gage visit: http://www.powerupforprofits.com/why-kathleen/media-interviews.