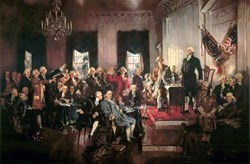 Gathering factions, constitutionally speaking, best festering factions.
Chicago, IL (PRWEB) September 17, 2013
Honoring the 226th anniversary of the Signing of our Constitution, political scientist Bryan W. Brickner offers a series of posts speaking to our political heritage – the Constitutional Representation of We the People.
"It's just not right, from a political science perspective," opened Brickner, "to speak unruly of America's polity – 'secession', for example, which people are actually talking about. That's surely not the American way; our way, the constitutional way, is to channel the unruliness into the People's House: gathering factions, constitutionally speaking, best festering factions."
For the Senate, the Constitution states there will be two Senators for each state; for the House of Representatives, we have this statute (Article 1, Section 2, Clause 3): "The Number of Representatives shall not exceed one for every thirty Thousand, but each State shall have at Least one Representative."
"At the time, this theory of representation – that one could represent 30,000 – it was a big deal," added Brickner: "In the state legislatures of the period, the representation ratio was often much lower. In Federalist 55, Madison writes that Pennsylvania had a ratio of one for every four or five thousand, Rhode Island one for a thousand, and in Georgia several districts had the incredibly low ratio of one for ten."
George Washington presided over the drafting of our Constitution as President of the Convention and chose not to speak during the deliberations. He was silent (during debates) until the Signing, 17 September 1787.
"After the proposed Constitution had been read aloud," Brickner continued, "Washington rose and announced a wish. He asked those gathered to make a change to the Constitution: if you take a look, the smudge is clearly visible. He asked the founders to lower the ratio for representing We the People from the proposed 'one for every forty Thousand', to the constitutional 'one for every thirty Thousand'. Washington's wish was unanimously approved, the change (smudge) was made, and then they signed it."
"Secession never made a US citizen," closed Brickner, "in fact, it has a 'de-citizening' effect: the US Constitution is what it takes to make an American citizen – and that hasn't changed in 226 years."
Brickner has a 1997 political science doctorate from Purdue University and is the author of several political theory books, to include The Promise Keepers (1999), Article the first of the Bill of Rights (2006), and The Book of the Is (2013). The Bryan William Brickner blog is a collection of published works and press coverage and an ongoing resource for the political science of constitutional usurpation and the biological science of cannabinoids.