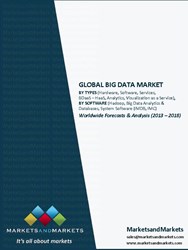 Rockville, MD (PRWEB) September 19, 2013
Big Data Market by Types (Hardware; Software; Services; BDaaS - HaaS; Analytics; Visualization as Service); By Software (Hadoop, Big Data Analytics and Databases, System Software (IMDB, IMC): Worldwide Forecasts and Analysis (2013 – 2018)
Modern world today relies on precise and accurate data for effective decision making. Big Data has become one of the most crucial factors for the success of business in various verticals. Many developing countries are also focusing on adopting this technology. The major driving force for this technology would be the rising unstructured data from several sources and the constant need of enterprises to optimize large workloads of data to enhance the overall efficiency of systems. However, there are few major inhibitors in the advancement of technology such as lack of skilled personnel and lack of security measures and solutions. But, with the establishment of advanced training & learning centers, and by launching various certification courses, the issue has been addressed.
The report is primarily focused on providing the complete rear view image of big data market in respect to its technology, solutions, hardware, software and services. The report also provides business case analysis of the concept. The business case analysis includes how it had generated real value and brought new innovation among business models and technologies. The report also provides the basic insight how uniquely this market will evolve over the next five years. Besides covering the basic technology and solutions in different sub segments, the report also focuses on different regional markets for each of the segments of verticals and services. The vertical market size is forecasted for different regions such as North America, Europe, Asia-Pacific, Middle East & Africa and Latin America.
The report also focuses on the major driving forces, restraints, opportunities in big data market. It also provides basic insights in to the vendor ecosystem that is how it has evolved and created real value to the end users.
To order this report:
Big Data Market By Types (Hardware; Software; Services; BDaaS - HaaS; Analytics; Visualization as Service); By Software (Hadoop, Big Data Analytics and Databases, System Software (IMDB, IMC): Worldwide Forecasts and Analysis (2013 – 2018)
Contact: Shauna
800.298.5699
Customerservice(at)marketresearch(dot)com
About MarketsandMarkets
The MarketsandMarkets edge: Worldwide, market research reports are primarily sold for numbers, market segmentation and competitive landscape, within the business leaders.
The analyst working with MarketsandMarkets come from the renowned publishing houses and market research firms globally adding their expertise and domain understanding. We get the facts from over 22,000 news and information sources, a database of hundred thousands of key industry participants and draw on our relationship with more than 900 market research companies globally.
In course of our ongoing relationship with research partners for over a period of three years, our clients have discovered that we can not only head-start any given research project immediately but also execute it in a stipulated time frame. We always prioritize our commitments of confidentiality. The fact that a high percentage of our business comes from client referrals bears ample testimony to the quality of our market research reports.
About MarketResearch.com
MarketResearch.com is the leading provider of global market intelligence products and services. With research reports from more than 720 top consulting and advisory firms, MarketResearch.com offers instant online access to the world's most extensive database of expert insights on global industries, companies, products, and trends. Moreover, MarketResearch.com's Research Specialists have in-depth knowledge of the publishers and the various types of reports in their respective industries and are ready to provide research assistance. For more information, call Cindy Frei at 240.747.3014 or visit http://www.marketresearch.com
Follow us on Facebook http://www.facebook.com/marketresearchdotcom
Follow us on Twitter http://www.twitter.com/marketresearch_
Big Data Market by Types (Hardware; Software; Services; BDaaS - HaaS; Analytics; Visualization as Service); By Software (Hadoop, Big Data Analytics and Databases, System Software (IMDB, IMC): Worldwide Forecasts and Analysis (2013 – 2018) – Table of Contents:
1 Introduction
2 Executive Summary
3 Market Ecosystem & Dynamics
4 Big Data: Market Size, Analysis & Forecast By Types
5 Big Data As A Service: Market Size, Analysis & Forecast
6 Big Data: Market Size & Forecast, By End Users
7 Big Data: Market Size & Forecast, By Regions
8 Big Data: Market Analysis, Trends & Insights
9 Company Profiles (Overview, Products And Services, Financials, Swot Analysis, Strategies And Insights)*
List of Tables