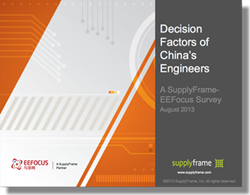 We knew who to ask to get the clearest picture of how engineers in China get their job done.
Pasadena, CA (PRWEB) September 17, 2013
SupplyFrame-EEFocus has announced the availability of its second annual report on the work habits of electronics engineers in China. The first Decision Factors for China's Engineers, released in June 2012, was a landmark in understanding the design process of engineers in China's booming electronics industry. The 2013 edition of the report reaffirms last year's findings while adding intriguing new details.
The report was created by SupplyFrame, a leader in digital sales and marketing services for the electronics industry, along with their strategic partner EEFocus, a premier social network and marketing provider based in Beijing. The survey was distributed to 50,000 electronics professionals across China, and EEFocus followed up with one-on-one interviews with many of the respondents.
"The EEFocus team lives and breathes electronics in China," said Alma Wang, Director of Business Development, SupplyFrame-EEFocus. "We knew who to ask to get the clearest picture of how engineers in China get their job done. And as a China-based team, we're able to translate answers and interpret results without introducing cultural bias."
Over a thousand engineers participated in the survey comprised of questions including:

How do you choose components and suppliers?
How often do you buy components online?
What tools do you use to get designs done faster?
How can suppliers help you make design decisions?
Their answers provide actionable insights that will help electronics marketers align their company's marketing strategy with the needs and preferences of prospects in China.
"Electronics companies need to know what their customers want so they can give it to them," explained John Schirmer, SupplyFrame Vice President of Worldwide Sales. "This study uncovers things like how engineers prefer to communicate with suppliers, their top research sites, and their biggest design challenges. We're excited to help our partners connect effectively with Chinese engineers at critical points during the design cycle."
Download the full report: http://bit.ly/ChinaReport2013.
About SupplyFrame
Since its establishment in 2003 with an electronic component quoting system, SupplyFrame (http://www.supplyframe.com) has grown to become the world's most comprehensive and influential digital marketing channel for the global electronics industry. Today reaching over 5 million electronics professionals each month, SupplyFrame provides measurable media products delivering unrivaled results, plus inventory location products to expedite purchasing decisions and help electronics suppliers grow online sales. The company offers three unique online sales channels: SupplyFrame Media Network, SupplyFrame Sourcing and SupplyFrame-EEFocus China.
About EEFocus
EEFocus (http://www.eefocus.com), SupplyFrame's strategic partner in China, is both a leading social network and a top-performing direct marketing and online advertising provider for the growing electronics industry across China. EEFocus publishes a series of media products unique to the China electronics industry, including turnkey branded social community sites, datasheet search ads, online educational programs, and customized lead generation campaigns. EEFocus websites include the EEFocus.com engineering community site, the CNDZZ.com circuit design collaboration site, the Datasheet5.com technical reference site, the EEBoard.com development tools introduction site, and the ZNCZZ.com forum for China's active electronics engineering college students.