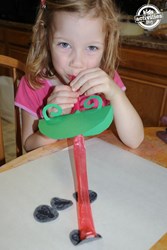 The sticky frog craft can turn into a fun game.
Dallas, Texas (PRWEB) September 20, 2013
A fun sticky frog craft and cute vegetable coloring pages have been published on Kids Activities Blog.
Materials needed to build the funny sticky tongue frog can be easily found around the house. They include green construction paper, felt, scissors, marker, red party blow outs, and velcro pieces.
Stretch out the party blow out and glue a velcro piece at the tip of it. Draw a circle on the green construction paper to make a frog face. Follow the directions to cut out the face.
Draw a few flies on the velco and cut them out. Put the party blow out inside the frog face and ready is the fun frog game. Let the kids have a blast using the party blow out to catch the yummy flies.
Another fun project make the vegetable coloring pages. These pages can be used to go on a scavenger hunt at the local farmers market or at the grocery store. Each vegetable has space to write in the veggie names.
For detailed instructions and to get additional fun game ideas, check out Kids Activities Blog this week. Come get inspired to let the kids have a blast playing games that sneak in a bit of learning.
About Kids Activities Blog
Kids Activities Blog is a website created by two moms (who collectively have 9 children), Rachel Miller and Holly Homer from June Cleaver Nirvana. It is their daily goal to inspire parents and teachers to play with kids. This interactive website publishes simple things to do with kids twice a day. Kids Activities Blog is a great tool for moms and teachers to find kid-friendly activities that create memories and sneak learning into the fun.