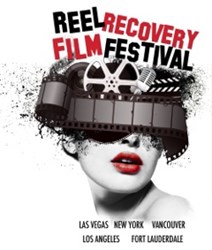 Last year, we played to such appreciative crowds in New York, and I look forward to seeing the same great audiences this year, says Leonard Buschel, Executive Director of the Festival.
New York, NY (PRWEB) September 16, 2013
For the second year in a row, the REEL Recovery Film Festival is coming to New York City, offering its unique line-up of films that showcase the drama, emotional honesty, and yes, even the humor found in stories of addiction and recovery. Presented by Writers In Treatment (W.I.T.), one of Hollywood's leading recovery nonprofits and the creator of the festival, REEL Recovery Film Festival will run September 27–October 3 at the Quad Cinema, 34 West 13th Street, New York, NY.
"Last year, we played to such appreciative crowds in New York, and I look forward to seeing the same great audiences this year," says Leonard Buschel, Executive Director of the Festival. "In the past few decades, there have been numerous films exploring addiction and recovery, from comedies to thrillers, dramas to documentaries—a creative outburst that proves the stories of addiction are as diverse as humans themselves. By showcasing the best of this work, the REEL Recovery Film Festival provides a rare, nuanced, and honest portrait of a burgeoning global epidemic."
Buschel adds that the festival features an opportunity for moviegoers to question filmmakers and well-known clinicians after most screenings: "This traveling event is more than just a celebration of recovery and film, it's an expansion of a dialogue between artists, treatment industry professionals, and a public eager to learn more about America's number-one public health crisis."
This year's Festival opens on Friday afternoon with screenings of Successful Alcoholics at 1:00pm and film festival darling Radioman at 3:00pm, as well as a special in-person appearance by Radioman himself during an opening reception at 4:30pm at Grape & Vine restaurant at The Jade Hotel. Radioman is the incredible true story of a formerly homeless man whose obsession with the movies turned him into a New York City movie legend with more than 100 small film parts to his name. Friday evening will feature the critically acclaimed documentary Bill W., which tells the story of William G. Wilson, co-founder of Alcoholics Anonymous, named one of Time Magazine's "100 Persons of the 20th Century." The screening, which starts at 7:00pm, will be followed by a Q&A with filmmaker Kevin Hanlon.
Other Festival highlights include:

The New York premiere of Perfection, featuring a Q&A with filmmaker and star Christina Beck (Saturday, September 28 at 7:00pm);
A panel discussion entitled "Artistic Freedom in Recovery," hosted by Donna Chavous of Intervention and featuring graphic artist Melinda Bush, dancer Robert LaFosse, artist/poet Christine Rodriguez and actor David Drake (Sunday, September 29 at 4:00pm);
A screening of the documentary Perseverance, about Dr. Billy Taylor, one of Michigan's greatest running backs, featuring a special guest appearance by Dr. Taylor (Monday, September 30 at 7:00pm);
A panel discussion entitled "Chasing the Muse…Stone Cold Sober," co-sponsored by the WGA East and Hazelden Foundation, which will be moderated by author William Cope Moyers. The panel features best-selling author and screenwriter Lawrence Block (My Blueberry Nights, Tilt, Eight Million Ways to Die); New York Times columnist and author David Carr (The Night of the Gun); actor, writer, radio talk show host and politician Malachy McCourt; author Sacha Z. Scoblic (Unwasted: My Lush Sobriety); and Michael Winship, WGA East president and senior writer at Moyers & Company (Tuesday, October 1 at 7:30pm);
A discussion with Dr. Gabor Maté, author of In the Realm of Hungry Ghosts, and Dr. Tian Dayton, author of The ACoA Trauma Syndrome (Wednesday, October 2 at 3:00pm);
A return of Pat Dixon's Comedy Intervention, sponsored by Gosnold on Cape Cod benefitting the Lenny Bruce Memorial Foundation. Comedian Pat Dixon will host the evening as some of the funniest men and women in New York's comedy scene today perform at the QUAD. They include Bonnie McFarland, Rich Vos, Ross Bennett, Dustin Chafin, Leah Bonnema, and Chrissy Mayr. (Wednesday, October 2 at 8:00pm)
IN PERSON: Frank Ferrante and the funniest movie about personal transformation ever, May I Be Frank (Thursday, October 3 at 5:00pm).
The exciting line-up of films in the Festival also encompasses features, shorts, and TV programs, including an episode from It's Always Sunny in Philadelphia courtesy of FX Networks entitled "Charlie Rules the World," about video game addiction (Monday, September 30 at 1:00pm).
Advance tickets are available for just $5 per film. For more information and to purchase tickets, call 818.762.0461 or visit reelrecoveryfilmfestival.org.
About the REEL Recovery Film Festival
The REEL Recovery Film Festival is a multi-day event celebrating film, the arts, writing, and creativity. In 2013 and 2014, the Festival is running in Los Angeles, New York, Las Vegas, San Francisco, Sacramento, Vancouver, BC, Delray Beach, FL, and Denton, TX, showcasing filmmakers who make honest films about addiction, alcoholism, behavioral disorders, treatment and recovery. The Festival's eclectic line-up encompasses contemporary and classic films, documentaries and shorts from American and international first-time filmmakers and industry veterans.
Full schedule available at http://www.reelrecoveryfilmfestival.org.