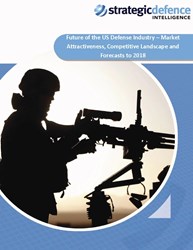 Rockville, MD (PRWEB) September 17, 2013
Future of the US Defense Industry - Market Attractiveness, Competitive Landscape and Forecasts to 2018
This report is the result of SDI's extensive market and company research covering the US defense industry, and provides detailed analysis of both historic and forecast defense industry values including key growth stimulators, analysis of the leading companies in the industry, and key news.
The US is the world's leading defense market, with a defense budget of US$613.9 billion in 2013, and is expected to remain at the top defense spenders table over the forecast period. Although funding for overseas operations is estimated to decrease, the country's base military expenditure is expected to increase at a CAGR of 1.93% over the forecast period.
Plans for acquisition of advanced defense equipment coupled with replacement of old and obsolete equipment are projected to drive the country's capital expenditure presenting growth opportunities for the defense equipment and technology suppliers, despite looming threat of budget cuts and sequestration. Sequestration will not terminate or affect the existing contracts, but only affect the DoD's future contracts and the number of equipment to be procured under these contracts. Still, the US market is estimated to retain its attractiveness for foreign defense companies and new entrants, which can enter the market through joint development or strategic alliance with or acquisition of domestic players. The US government's encouragement of foreign direct investment (FDI) in defense sector will also help foreign companies in entering the market.
The homeland security market of the US is expected to be driven by missions such as preventing terrorism and enhance security; securing and manage borders; enforcing and administering immigration laws; safeguarding and securing cyberspace; as well as ensuring disaster resilience.
During the forecast period, the US is expected to invest in homeland security products such as surveillance equipment, and cutters and patrol vessels, and the budget of the US is expected to increase from US$60.7 billion in 2013 to US$65.3 billion in 2018, registering a CAGR growth of 2.15%.
To order this report:
Future of the US Defense Industry - Market Attractiveness, Competitive Landscape and Forecasts to 2018
Contact: Shauna
800.298.5699
Customerservice(at)marketresearch(dot)com
About Strategic Defence Intelligence
Strategic Defence Intelligence provides a stream of continuously updated customer and competitor intelligence, as well as detailed research reports providing an unrivalled source of global information on the latest developments in the defence industry. Strategic Defence Intelligence's unique monitoring platform tracks global defence activity for over 2,500 companies and 65 product categories in real time and in a highly structured manner, giving a comprehensive and easily-searchable picture of all defence industry activity.
About MarketResearch.com
MarketResearch.com is the leading provider of global market intelligence products and services. With research reports from more than 720 top consulting and advisory firms, MarketResearch.com offers instant online access to the world's most extensive database of expert insights on global industries, companies, products, and trends. Moreover, MarketResearch.com's Research Specialists have in-depth knowledge of the publishers and the various types of reports in their respective industries and are ready to provide research assistance. For more information, call Cindy Frei at 240.747.3014 or visit http://www.marketresearch.com.
Follow us on Facebook http://www.facebook.com/marketresearchdotcom
Follow us on Twitter http://www.twitter.com/marketresearch_
Future of the US Defense Industry - Market Attractiveness, Competitive Landscape and Forecasts to 2018 – Table of Contents:
1 Introduction
2 Executive Summary
3 Market Attractiveness and Emerging Opportunities
3.1. Defense Market Size Historical and Forecast
3.1.1. US defense expenditure estimated to increase at a CAGR of 1.93% over the forecast period
3.1.2. Rebalancing of Asia- Pacific, turbulent Middle East, modernization and replacement of obsolete equipment, are expected to drive defense spending
3.1.3. Defense expenditure as a percentage of GDP expected to drop over the forecast period
3.1.4. Per capita defense spending forecast to decline over the forecast period
3.2. Analysis of Defense Budget Allocation
3.2.1. Total DoD budget forecasted to decline at a CAGR of -0.38%
3.2.2. Share of Revenue expenditure expected to increase over the forecast period
3.2.3. Budget allocation for Navy to remain dominant over the forecast period
3.2.4. Revenue expenditure allocation for the army expected to increase over the forecast period
3.2.5. Naval defense budget expected to grow at a CAGR of 2.18% over forecast period
3.2.6. The US expected to spend US$765.1 billion on its air force over the forecast period
3.2.7. Expenditure on the defense-wide category of armed forces projected to grow at a CAGR of 2.26% over the forecast period
3.3. Homeland Security Market Size and Forecast
3.3.1. The US homeland security expenditure to reach US$65.3 billion by 2018
3.3.2. Preventing terrorism, securing and managing borders, and safeguarding cyberspace to drive homeland security expenditure over the forecast period
3.3.3. The nation is at "some risk" of terrorism
3.3.4. The US has a terrorism index score of 0.02
3.4. Benchmarking with Key Global Markets
3.4.1. The US will dominate global military spending over the forecast period
3.4.2. US defense budget is much higher than other leading spenders
3.4.3. US defense expenditure as a percentage of GDP is the third-highest in the world
3.4.4. US was largest global arms exporter during 2008–2012
3.4.5. The US emerged as eighth-largest global arms importer during 2008–2012
3.4.6. The US faces some threat from foreign terrorist organizations
3.5. Market Opportunities: Key Trends and Growth Stimulators
3.5.1. Fighters and Multi-role Aircraft
3.5.2. Force Management
3.5.3. Networking/Information Management:
3.5.4. Cyber Security
3.5.5. Software Infrastructure
3.5.6. Space Warfare Systems
3.5.7. Multi-Role Aircraft MRO
3.5.8. Border Security
3.5.9. Maritime Security
4 Defense Procurement Market Dynamics
5 Industry Dynamics
6 Market Entry Strategy
6.1. Market Regulation
6.1.1. The US defense industry is open to FDI
6.1.2. No offset policy exists in the US
6.1.3. US arms trade is heavily regulated
6.2. Market Entry Route
6.2.1. Foreign OEMs enter the market through the acquisition of domestic defense companies
6.2.2. Joint product development programs, an attractive market entry route
6.2.3. Formation of partnerships with domestic defense firms provide good market entry opportunities
6.2.4. Direct sale of defense equipment provides foreign OEMs with an opportunity to enter the market
6.3. Key Challenges
6.3.1. Sequestration and budget cuts
6.3.2. Decreasing economies of scale and defense inflation
6.3.3. Declining profit margins deter growth of domestic defense companies
7 Competitive Landscape and Strategic Insights
8 Business Environment and Country Risk
9 Appendix
List of Tables