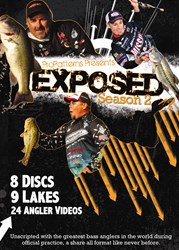 It's always been a lifelong dream of mine to have my own fishing show.
Yankton, SD (PRWEB) September 17, 2013
According to Horton and Johnson, the company takes its name from the bird many outdoor enthusiasts would quickly recognize, they tell us, "The bird has a wonderful sound that makes you think of the outdoors, and Whippoorwill Productions is all about bringing the great outdoors to all its viewers."
In addition to bringing Exposed to life, Horton is also the star of Timmy Horton Outdoors, a family-friendly outdoor television show presented by Bass Pro Shops on the World Fishing Network. Horton tells ProPatterns, "It's always been a lifelong dream of mine to have my own fishing show. I love to teach and share all the fishing knowledge I learned through the years and continue to learn. It is so rewarding to hear from our fans how they were able to be successful with lessons they learned from one of our shows." In addition to his work at Whippoorwill and full time professional fishing, Horton has also dedicated his time and talents to several charitable events like the annual "Fishing for Kids," started in 1999 and KVD/Detroit Lions Charity Bass Tournament, held last summer.
Through Horton and Johnson's friendship and experiences in the outdoors, Whippoorwill came to fruition. As Johnson recounts: "I have always loved the outdoors, especially any time I get to spend out on the water. Several years ago Tim approached me with his idea for starting his own production company. I had been on some hunting and fishing trips with him before, shooting some video and taking stills for his personal memorabilia. This seemed like a great opportunity to be a part of something big and fun to do for a living, and so far it is beyond my greatest expectations for the true dream job in the great outdoors."
Johnson also recounts how ProPatterns and Whippoorwill formed the relationship that evolved into Exposed: "Tim met Chad (Ekroth CEO of ProPatterns, Inc.) at a Bassmaster Classic event, where Tim approached Chad with an idea he had to film the Elite pros during the practice days for their upcoming Elite events. Chad was big in the Dot.com market that Tim wanted to use for promoting the videos." This meeting began the project planning which led to filming of the first event, only weeks after the Classic. Ekroth added these comments, "I remember the first meeting and though I have never been known to shy away from a challenge I realized time was not on our side if we wanted to get this project off the ground. In a matter of a few weeks we had to orchestrate legal documents, angler schedules, and marketing plans in order to get permission from B.A.S.S. and Mike in the boat with the anglers to film at the first Elite event."
The success of both ProPatterns and Whippoorwill, perhaps, remains in a singular vision and mission—educating the fishing enthusiast. Horton offers this advice to novice anglers: "Become familiar with your equipment and your quarry before you go out. Read and study your manuals on your sonar units and go online to research basic seasonal patterns and other basics such as different lines to use and the knots to tie for each and lures to use. There is so much great information online." ProPatterns agrees and has made it a mission to groupsource this knowledge base through its online journal function at http://www.ProPatterns.com.
Johnson, who has followed the best anglers in the world on the toughest waters in North America talks about how challenging filming can be and warns about "rough weather conditions such as rain, sleet or snow or big water wave action such as we had on one show in Green Bay, WI with Travis Manson. I had to use my phone camera for the end of the show as my big camera broke in my arms as I held on for dear life in all the rough water. This by far was the best reality show we have filmed to date. With all the bad luck Travis had, he persevered and had a great finish in the tournament."
While that one experience sticks out in Johnson's mind, the Whippoorwill team hints about the third season of Exposed, set for online release in the coming months: "All 24 of the 2014 season videos will once again bring so much great information to all the fans. It is so cool to be able to reveal the personality of each pro as they share their fishing knowledge with the fans."
About ProPatterns, Inc. and Exposed:
ProPatterns, Inc. is a leader of angling education offering a variety of fishing tips and membership services online. Information is gathered from various sources and shared with members in a variety of ways. The Exposed video series, for example, gains all of its integrity from an alignment with the biggest names in the bass fishing industry including professionals who fish with BASS, FLW, and PAA. Cooperation from the anglers and their willingness to share is the catalyst for the growth of this series.
The company is based in Yankton, South Dakota, home of CEO and President Chad Ekroth. Ekroth's background includes a computer science degree and business experience involving several successful startups. When not tending to business, Ekroth spends his time tournament fishing and engaging in other industry relations including a long time commitment to B.A.S.S. Nation as a 25 year member and competitor.
In addition to Exposed the company provides online fishing journals, payday opportunities, sponsorship opportunities, and a variety of other services including the new enhanced Fantasy Fishing competition which provides all members a chance to win prizes.
Visit http://www.ProPatterns.com today to receive all of the latest information about the Exposed videos series and to learn more about all of the member services available.