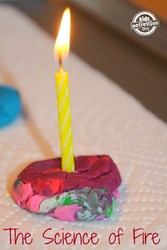 Teach kids about fire safety with an easy to do fire experiment at home.
Dallas, Texas (PRWEB) September 21, 2013
A cool fire experiment teaching fire safety and lots of fun ideas to make DIY cards have been published on Kids Activities Blog. This fall kids can learn fire safety with a simple science experiment done at home.
Fire is mystical to children. How does fire burn? It is very important that kids learn early on that fire is nothing to play with and that fire safety is very important.
Materials needed for the fire experiment can be easily found in the house. They include a few birthday candles, some play dough to hold the candles in place, a small spray bottle of water, a glass, and some matches.
Set up the candles on a baking tray according to the template provided on Kids Activities Blog. Light one candle and talk to the kids about what they already know about fire. Let them spray water on the first candle and talk to them about what they observed. Place a glass upside down on the second candle and let the kids observe the candle flame disappear. Let the third candle burn completely until the fire it out. Discuss the importance of the findings. Use the discussion topics listed on Kids Activities Blog.
Easy to do cards for all occasions can be done with a few items at home. Fold a piece of paper according to the template provided on Kids Activities Blog. Let the kids place a variety of stickers onto one side and let them color over the stickers to cover the entire page with paint. Let the paint dry. The kids will be amazed at their creations once they remove the stickers.
For detailed instructions and to get additional fun ideas, check out Kids Activities Blog this week. Come get inspired to let the kids have a blast while learning important life lessons.
About Kids Activities Blog
Kids Activities Blog is a website created by two moms (who collectively have nine children), Rachel Miller and Holly Homer from June Cleaver Nirvana. It is their daily goal to inspire parents and teachers to play with kids. This interactive website publishes simple things to do with kids twice a day. Kids Activities Blog is a great tool for moms and teachers to find kid-friendly activities that create memories and sneak learning into the fun.