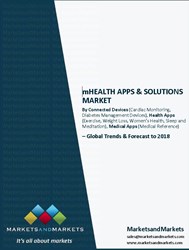 Rockville, MD (PRWEB) September 18, 2013
mhealth Apps and Solutions Market By Connected Devices (Cardiac Monitoring, Diabetes Management Devices), Health Apps (Exercise, Weight Loss, Women's Health, Sleep and Meditation), Medical Apps (Medical Reference) – Global Trends and Forecast to 2018
mHealth is a successful integration of mobile technology and healthcare services that entail a revolution in the global healthcare solutions market. The global mHealth market is estimated to be valued at $6.6 billion in 2013 and is expected to reach $20.7 billion by 2018 at a healthy CAGR of 25.5%.
The mobile healthcare market is broadly categorized into connected medical device and healthcare applications; the former dominates the revenue market with around 80% in 2013. The healthcare apps market is dominated by exercise apps with just less than one-fifth of the share. Sleep and meditation, and weight loss apps are expected to grow at the highest CAGR during the forecast period.
Analysis of market dynamics reveals that the major drivers of this market include increasing awareness of chronic diseases, growing adoption of smartphones, high penetration of 3G and 4G network, advanced mobile connectivity, and a promise of better healthcare cost-efficiency. On the other hand, stringent regulations by the FDA and the EU, and data insecurity hinder market growth. Low patient-doctor ratio in underdeveloped countries such as Africa and other potential mHealth platforms such as smart TV increase the scope of mHealth penetration globally.
The trend of venture capital investment presents a significant development in the mobile platform for healthcare solutions and data security. In 2012, monitoring segment, healthcare IT, and consumer apps fetched the maximum venture capitals. Benchmarking strategy analysis reveals market preference towards providing comprehensive solutions with an integrated platform. The connected device market is also expected to amalgamate with companion apps to offer better healthcare solutions.
North America holds the largest share of the global mHealth market in 2013. It is estimated to be valued at $2.9 billion in 2013, while Europe and Asia will witness potential growth due to significant adoption of mobile health technology and government initiatives. U.K. India, China, Japan, Africa, and Australia are the major contributors amongst all emerging countries in 2013.
To order this report:
http:// mhealth Apps and Solutions Market By Connected Devices (Cardiac Monitoring, Diabetes Management Devices), Health Apps (Exercise, Weight Loss, Women's Health, Sleep and Meditation), Medical Apps (Medical Reference) – Global Trends and Forecast to 2018
Contact: Shauna
800.298.5699
Customerservice(at)marketresearch(dot)com
About MarketsandMarkets
The MarketsandMarkets edge: Worldwide, market research reports are primarily sold for numbers, market segmentation and competitive landscape, within the business leaders.
The analyst working with MarketsandMarkets come from the renowned publishing houses and market research firms globally adding their expertise and domain understanding. We get the facts from over 22,000 news and information sources, a database of hundred thousands of key industry participants and draw on our relationship with more than 900 market research companies globally.
In course of our ongoing relationship with research partners for over a period of three years, our clients have discovered that we can not only head-start any given research project immediately but also execute it in a stipulated time frame. We always prioritize our commitments of confidentiality. The fact that a high percentage of our business comes from client referrals bears ample testimony to the quality of our market research reports.
About MarketResearch.com
MarketResearch.com is the leading provider of global market intelligence products and services. With research reports from more than 720 top consulting and advisory firms, MarketResearch.com offers instant online access to the world's most extensive database of expert insights on global industries, companies, products, and trends. Moreover, MarketResearch.com's Research Specialists have in-depth knowledge of the publishers and the various types of reports in their respective industries and are ready to provide research assistance. For more information, call Cindy Frei at 240.747.3014 or visit http://www.marketresearch.com .
Follow us on Facebook http://www.facebook.com/marketresearchdotcom
Follow us on Twitter http://www.twitter.com/marketresearch_
mhealth Apps and Solutions Market By Connected Devices (Cardiac Monitoring, Diabetes Management Devices), Health Apps (Exercise, Weight Loss, Women's Health, Sleep and Meditation), Medical Apps (Medical Reference) – Global Trends and Forecast to 2018 – Table of Contents:
1 Introduction
2 Executive Summary
3 Market Overview
3.1 Mobile Healthcare Ecosystem
3.1.1 Device Manufacturers
3.1.2 Application Developers
3.1.3 Network Providers
3.1.4 Healthcare Providers
3.2 Market Segmentation
3.3 Market Dynamics
3.3.1 Drivers
3.3.1.1 Growing Adoption Of Smartphones, Tablets, And Pda To Goad Mobile Technology In Healthcare
3.3.1.2 Increasing Awareness Of Chronic Diseases Management To Elicit The Need For Continuous Monitoring
3.3.1.3 Advanced Connectivity To Enhance The Quality Of Healthcare Solution
3.3.1.4 Robust Penetration Of 3g And 4g Network To Provide Uninterrupted Healthcare Services
3.3.1.5 Better Cost Efficiency To Encourage Medical Professionals Adopting Mhealth Solutions
3.3.2 Restraints
3.3.2.1 Stringent Regulations To Prolong The Introduction Phase
3.3.2.2 Data Insecurity To Affect Credibility
3.3.3 Threats
3.3.3.1 Rapid Evolution Of Technologies Challenging Existing Mhealth Solutions
3.3.3.2 Ios-based Business Model Restricting Mhealth Audience
3.3.4 Opportunities
3.3.4.1 Inappropriate Patient-doctor Ratio In Underdeveloped Countries To Welcome Remote Monitoring
3.3.4.2 Expansion In The Mhealth Solution Providing Medium From Smartphones To Other Mobile Options
3.4 Product Life Cycle Analysis
3.4.1 Apps Market Is In Introduction Phase, Connected Device Has Entered Growth Phase
3.5 Market Chasm Analysis
3.6 Regulatory Affairs
3.6.1 Mobile Medical Apps Also Require Fda Approval
3.7 Venture Capital Analysis
3.7.1 Healthcare It Service Fetched The Maximum Support From Vcs
3.8 Strategic Benchmarking
3.8.1 Solution Enhancers
3.8.2 Healthcare Providers
3.9 Market Share Analysis
4 Mobile Healthcare Solutions
5 Geographic Analysis
6 Competitive Landscape
7 Company Profiles (Overview, Financials, Products & Services, Developments & Strategy)*
8 List Of Tables