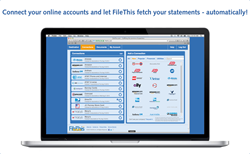 FileThis Fetch is a revolutionary document delivery service that that simplifies your financial life
Mill Valley, CA (PRWEB) September 17, 2013
FileThis (http://www.filethis.com), the award-winning document delivery service, today announced a new integration with Box, bringing its document fetching and filing technology to millions of Box users.
Managing monthly statements and bills from multiple financial, insurance, utility, and retail companies has always been a cumbersome and manually-intensive process. FileThis Fetch solves this problem by securely fetching and delivering online statements, bills and other documents from over 280 companies, such as American Express, Chase, Anthem, or Amazon, and storing them in a centralized location. Documents are converted to searchable PDFs and are automatically organized within the user's Box account, making finding anything you need extremely quick and easy.
"FileThis Fetch is a revolutionary document delivery service that that simplifies your financial life from a single and intuitive mobile application," said Brian Berson, Founder and CEO of FileThis. "By leveraging Box's content platform, users can stay on top of their documents, online bills, and statements, anytime and anywhere."
To learn more about FileThis Fetch, visit FileThis at http://filethis.com/fetch/. FileThis Fetch is also available as a free app on iTunes.
About FileThis
FileThis is a startup based in Marin County, California, dedicated to helping consumers go paperless. FileThis Fetch, its award-winning cloud-based consumer service, securely and automatically fetches documents from financial and household accounts and delivers them to cloud storage services. FileThis Fetch is eco-friendly, it reduces paper clutter, and makes it easy to find, store, manage and share important documents. For more information visit the company website at http://www.filethis.com or email us at info(at)filethis(dot)com.
FOR PRESS INQUIRIES:
Martin Stein
(503) 757-8109
martin(at)filethis(dot)com