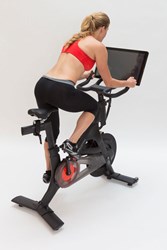 (PRWEB) September 17, 2013
Peloton Cycle, the first-ever bike to offer live streaming and on-demand indoor cycling classes direct to homes, announced today that it will unveil its innovative product at the Interbike Health and Fitness Trade show in Las Vegas, September 18-19, 2013.
Designed from the ground up in New York City, the Peloton bike utilizes a WiFi enabled 21.5" multi-touch console enabling riders to get instant access to workouts from best-in-class instructors from the convenience of their home. Live classes will be broadcast daily from Peloton's studio in New York City, opening December 2013, and on-demand classes will be added on an ongoing basis so riders can enjoy a workout anytime.
"Interbike is the perfect forum to unveil the Peloton bike, the show brings together the best in cycling and technology," said John Foley, Founder of Peloton Cycle. "We are confident that Peloton's unique intersection of fitness, technology, and digital content will have a dramatic impact on the indoor fitness equipment market."
The Peloton bike and console are designed to work perfectly together for accurate measurement of performance metrics through calories burned (kcal), cadence (RPMs), power output (Watts), and more. In addition, the real time video chat and social sharing capabilities ensure extra motivation, or at least a little competition for the ride.
All aspects of the Peloton bike have been highly designed to benefit the rider. With a near-silent belt drive system and a magnetic resistance flywheel, the Peloton bike rides smoothly and quietly while its carbon steel, monocoque construction provides amazing strength and stability. The Peloton bike micro-adjustable seat and handle bar posts enabling the rider to lock in place exactly where they want it.
Experience the Peloton bike at Booth #H328 at the Interbike Health and Fitness Business Trade Show.
About Peloton
Peloton Cycle is a lifestyle fitness brand based in New York City. The Peloton bike offers live streaming and on-demand indoor cycling classes directly to homes. Founder John Foley has been leading technology and manufacturing companies for 23 years. http://www.pelotoncycle.com