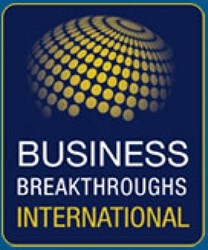 This WorkSmarterBetter education-based resource helps business owners build and optimize their own Ultimate Sales Machine™.
Grovetown, GA (PRWEB) September 17, 2013
Business Breakthroughs International (BBI), announced today their highly sought after second WorkSmarterBetter™ webinar series installment to help business owners and executives beat downtrodden statistics plaguing the entrepreneurial economy.
"Owning a business for many is the American Dream. I have been an owner myself and it was one of the best times of my life," comments Shiloh Kelly, Chief Marketing Officer of Business Breakthroughs International. "What many do not realize are the multitude of pain points that accompany business ownership, which are exasperated by oversights around some key, easily attainable insights. In pure Chet fashion—it's not about working harder, where the real breakthroughs happen is when we work smarter."
According to the Small Business Development Center at the University of Tennessee Research, 25% of business start-ups across all industries fail the first year, and 71% fail within ten years. A big driver behind these startling statistics is that businesses frequently miss profit streams that could help them not only survive, but thrive through the odds. This Profit Optimization Workshop, hosted by nationally renowned profit optimization expert Scott Hallman, deep dives into the top ten overlooked profit drivers businesses can start tapping into right away; uncovering 25%-100% in missed profits.
DATE:1 PM PST (4 pm EST) Thursday, September 19, 2013
TITLE:"Profit Mastery Workshop"
SPEAKER: Scott Hallman, Creator of the Ultimate Growth Plan for Business Breakthroughs International
LOCATION: Online Webinar-Registration Required http://www.businessbreakthroughs.com/go/webinarseries-2/
COST: Complimentary, Workshop includes a hands-on Profit Mastery Workbook
REGISTER NOW (Space is Limited: 250 seats for live event | First come, first served)
C-suite executives and business owners will attain 3 success keys, one being how to build a business worth 2 to 5 times more, in this hands-on working webinar session. It is exactly the tool business owners need to propel themselves forward, heading into the often frustrating fourth quarter.
The WorkSmarterBetter education-based resource helps business owners build and optimize their own Ultimate Sales Machine™. The market has responded positively with over 828 registrations for 250 seat capacity on its first June 2013 event. "It was refreshing to tune in to an old favorite and hear about some new material. It was useful that very day," said a participant from the World Class Techniques to Unlock Untapped Buyers webinar. Business enthusiasts are invited to tune in to this brand new profit mastery session promising to be a home run for all participants.
Scott Hallman Biography
Scott Hallman's companies have twice been named to the prestigious Inc. Magazine's "Inc. 500" list of the fastest-growing, privately held companies in America (#59 and #106). Starting the first with $5,000 he borrowed from his landlord, Scott went on to build yet another start up in the "IT Consulting industry (with a co-founder), that grew from $0 to $85M just 21 months, with a market value of nearly $1 Billion.He personally consulted Chet Homes, Brad Fallon, Eben Pagan and countless other thought leaders, along with businesses in over 250 industries around the world, ranging from early start ups to a $6.6 billion corporation.
About Business Breakthroughs International™ (BBI)
Business Breakthroughs International (BBI), a privately held company, was founded by highly publicized thought leader Chet Holmes® for the purpose of helping small- to medium-size businesses grow faster, better, smarter. Hundreds of business growth professionals from across the globe work together to fill in the sales and marketing gaps for their BBI clients by bringing the know-how necessary to actualize their personal and professional growth strategy potential at any stage and break through to their ultimate level of success. BBI's game changing methodologies are brought to the market through its wholly-owned services of The Core Story™, Breakthrough Consulting™, Growth Coaching™, SEO and Online Presence Management, Take it Virtual!™ training environment, and The Ultimate Business Mastery System™. For more information, visit http://www.businessbreakthroughs.com.