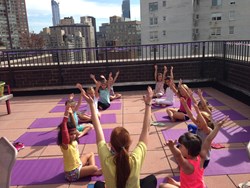 Manhattan, New York (PRWEB) September 23, 2013
Yoga has always been popular amongst adults, especially those living in the city. Recently the trend has become quite popular amongst children as well. Kids eighteen months to ten years old can experience the benefits of yoga and take specific age-appropriate classes taught by experienced instructors.
Lil Yogi's NYC, a kids yoga company in Manhattan, is offering yoga playgroups this fall where parents can get together and have an instructor come to their home and host an age-specific yoga class for a minimum of four kids. Lil Yogi's NYC has instructors available mornings, afternoons and evenings. The only requirements for a yoga playgroup are: an apartment or play space, a desired time, a desired day and a minimum of four participants at least eighteen months old.
Benefits of yoga playgroups are immense. Yoga classes provide children with an activity that is fun, stimulating and challenging. Children will learn yoga postures through catchy, interactive yoga songs, adventures, game and relaxation. Parents also benefit from in-home instruction. Parents can choose to participate with their children and friends or have the ease of having their children occupied while they can have 45 minutes free of children.
Lil Yogi's NYC also offers special needs playgroups with qualified instructors who specialize in special needs children. Requirements for a special needs yoga playgroup are: an apartment or play space, a desired time, a desired day, a minimum of two participants and a maximum of six participants.
For information on pricing and availability call or email Lil Yogi's NYC.