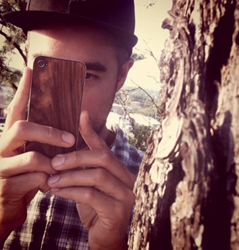 Tucker, GA (PRWEB) September 18, 2013
Since October of 2010, Material6 has been known as the company that changed the iPhone case industry with their handmade wood inlay back panels for the iPhone 4 and 4S. Now, they're prepared to do it again.
"We've been working on our design for the iPhone 5 and 5S for roughly a year now," CMO and co-founder Matt Turner said Monday. "We're really excited about this new offering from Material6, and we know our customers are going to love what we've come up with!"
The company was the first in a long line of imitators to offer a product for the iPhone 4 and 4S that incorporated real wood directly into the iPhone's design lexicon. There had been all-wood cases and stick-on wooden skins before, but the company took this concept one step further by replacing the entire back panel of the iPhone with a handmade wood panel.
The Material6 backs are designed as a direct replacement for the breakable glass back of the iPhone 4 and 4S. They are available in a number of wood varieties, and can be custom laser engraved with nearly anything the customer requests.
"We'll be continuing in this vein with the iPhone 5 and 5S," CFO and co-founder Randy Lively said Monday. "In light of this, we're offering the lowest price ever on our iPhone 4 and 4S product."
Material6 has been featured in Uncrate, Gizmodo, Wired, Lucky, The New York Times and also offers artist editions from such notable designers as Benny Gold and Cukui. You can find them on the web here: