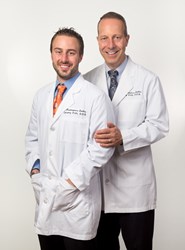 St. Louis, MO (PRWEB) September 19, 2013
Dr. Jeremy will be providing general dentistry focusing on family dental care. He will also be providing care for some of Masterpiece Smile's dental plans including Delta Dental Premiere and PPO.
"We are excited about the addition of Dr. Jeremy to our team," says Dr. Michael Frith, Founder of Masterpiece Smiles, "I know Dr. Jeremy will be an excellent fit for the practice. Not just because he is my son, but he also shares my same passion for dentistry. He has high energy and is skilled in the latest and most up to date techniques in dentistry." Dr. Jeremy also shares the core beliefs held by the Masterpiece Smiles practice; honoring God in all we do, honesty, accountability, compassionate care, family, respect for all, teamwork, advanced technology, and investing in a highly trained team.
Masterpiece Smiles will also be expanding the office hours to provide greater flexibility to patients. Effective October 1st, Masterpiece Smiles will be seeing patients Monday through Thursday from 7am – 7pm, Friday & Saturday from 8am – 2pm.
Dr. Jeremy attended University of Missouri - Columbia, where he doubled majored receiving his BA in Psychology and BA in Interdisciplinary Studies with a minor in Business. He then moved to Kansas City and earned his Doctor of Dental Surgery - DDS degree at the University Missouri -Kansas City. He is a member of the American Dental Association (ADA), the Academy of General Dentistry (AGD), the Missouri Dental Association (MDA), and the American Academy of Cosmetic Dentist (AACD). Dr. Jeremy loves to spend time with friends and family. He also enjoys snowboarding and outside activities. "I am excited about meeting each one of you, it is an honor to join my Dad and the Masterpiece Smile team in serving our patients," says Dr. Jeremy.
For more information on Dr. Mike and Dr. Jeremy, visit our website, http://www.drfrith.com.
About Masterpiece Smiles: Dr. Michael Frith is the Director of the TMJ & Sleep Therapy Centre of St. Louis, which specializes in craniofacial pain, headaches, TMJ disorders, and obstructive sleep apnea. Dr. Michael Frith is a Diplomate in The American Academy of Craniofacial Pain (AACP). The AACP is a select subspecialty group of only 392 dentists in the United States. Dr. Michael Frith is also St. Louis' first accredited cosmetic dentist by the American Academy of Cosmetic Dentistry (AACD), a distinction awarded to less than 1% of cosmetic dentists nationwide. His practice, Masterpiece Smiles, is the premiere provider of cosmetic dentistry and jaw/headache/sleep therapy disorders. Dr. Frith is a published author and clinical instructor. To learn more about Dr. Mike and Dr. Jeremy, please visit http://www.drfrith.com.
###