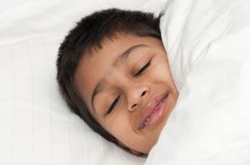 Our website provides invaluable tools to parents and caretakers who are struggling to help a child overcome bed wetting.
(PRWEB) September 16, 2013
An estimated seven million children in America wet their beds on a regular basis. Bed wetting can be a humiliating occurrence for children and a confusing experience for parents who wish to help their children cope with the issue.
Many parents struggle with wondering if there is a cure for bed wetting and if they can take measures to ease the anxiety and frustration their child is experiencing. The stigma and embarrassment associated with bed wetting often prevents people from seeking out advice from professionals and other parents.
Now, a new website is leading the charge in providing knowledge and resources regarding how to stop bed wetting.
"It all comes down to proper communication between parent and child and implementing practical techniques that empower the whole family," said BedWettingCures.com spokesperson Phil Jennings. "Our website provides invaluable tools to parents and caretakers who are struggling to help a child overcome bed wetting. We investigate everything from underlying causes to behavior modification techniques to how to console a child who is stressed out from the experience of bed wetting."
The new BedWettingCures.com answers every question a parent might have regarding how to help their child overcome the issue. In addition, the website reviews many of the products on the market that claim to help parents manage life with a child who struggles with bed wetting.
The website provides overviews of products like wireless alarms, bed pans, waterproof sheets, and diapers. The website also investigates the usefulness of enuresis medications and cognitive techniques that promise strategies for how to stop bed wetting.
"There are so many products on the market today that promise to be the ultimate fix," said Jennings. "We think that it is essential to provide an overview of these products so that parents can be informed before they dive head first into a plan for how to stop bed wetting. We want every parent to be empowered at the end of the day and we want to take the shame and stigma away from bed wetting."
Jennings recommends that parents or caretakers looking for methods on how to stop bed wetting reach out to the website directly via the contact page or by leaving a comment. "This is a safe community for parents to receive information," he adds.
For more information about conquering bed wetting and how to cope with the physical and emotional aspects of the issue, please visit BedWettingCures.com.