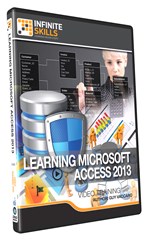 Learn Microsoft Access 2013 efficiently and at your own pace.
(PRWEB) September 18, 2013
Software training firm Infinite Skills Inc., last week introduced its "Learning Microsoft 2013 Tutorial," an introductory course teaching the fundamentals of database construction and data management using Microsoft's flagship database program.
Supported by Visual Basic for Applications, Access is a database management system that combines a relational database engine with a graphical user interface and other development tools, allowing users to develop and build solutions to fit specific data-management needs.
Infinite Skills' "Learning Microsoft Access 2013 Tutorial," teaches the fundamental tools and techniques involved in learning to build databases and perform functions such as queries, creating forms, and producing reports.
Learning Microsoft Access 2013 Video Tutorial
Course author Guy Vaccaro has more than 15 years' experience using Access, Excel and other Microsoft Office Suite programs, with years of experience training in classroom, manual writing, and computer-based formats. With a focus on Microsoft Office Suite, Vaccaro is especially accomplished in web and database functionality.
After an introduction to the Access user interface and an overview of relational databases, Vaccaro introduces the table, the basic component of databases, explaining how to use various data-types, design and create tables to store the data, using the table to manipulate data, and how to safeguard data using the primary key.
From there, Vaccaro covers the basic functionality of databases, exploring queries, explaining how to create, save, and run select queries, apply filters, use calculated fields, and perform other calculations.
The course then looks at creating forms with your tables, using color, alignment, tab order, and other features that allow users to interact with the database in a user-friendly manner. A chapter on reports follows, explaining how to generate a report from the data entered into forms.
Vaccaro devotes the last few chapters to exploring advanced features such as working with multiple table databases, exploring the relationships between tables, and how to perform queries with multiple tables. He looks at features of advanced tables such as indexing, relationship reports, and importing data; and covers advanced topics in queries, forms, and reports.
The course closes with a look at Access's new ability to create custom web apps, a feature that allows users to create databases that can interact with the cloud to store data and perform queries.
"We get some interesting new features in Access 2013," Vaccaro says, "including new field types, application parts, custom grouping, and the important addition of custom web apps. In this course we'll cover the basics of building and using a database in Access, and we'll look at how these new features can enhance your ability to work with data."
Free demo videos and a full list of course contents can be found on the Learning Microsoft Access 2013 training page of the InfiniteSkills website:
http://www.infiniteskills.com/training/learning-microsoft-access-2013.html.
InfiniteSkills offers its Learning Microsoft Access 2013 Tutorial either as a DVD or a direct download from the company website at a retail price of $99.95. Though the compatibility of programs varies, all InfiniteSkills titles and formats are compatible with both Mac and Windows operating systems, and shipping is available around the globe. Additionally, InfiniteSkills tutorials are supported by project files which correspond to examples in the videos.
About Infinite Skills Inc.
A leader in the field of software training, Infinite Skills designs its courses on a task-oriented model, teaching complex skills by providing hands-on examples and guiding users as they carry out essential functions. Infinite Skills offers a wide range of software titles available as DVDs, digital downloads, and in iPad editions. Infinite Skills now offers a subscription service, providing access to all its training content for a monthly fee, keeping with company's aim of delivering professional training to customers anywhere they want to learn.