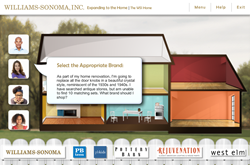 The key to great learning is creativity; the ability to create a situation that teaches and engages at the same time.
Minneapolis, MN (PRWEB) September 17, 2013
Out of more than 4,800 submissions, Allen Interactions, renowned custom e-learning provider, was named a Gold winner in the 2013 Cinema in Industry Award (CINDY) competition for its creative work with Williams-Sonoma.
The Welcome to Williams-Sonoma e-learning course was built as part of an onboarding program for global learners, some of which may have never visited a Williams-Sonoma, Inc. (WSI) brand store. The learners first step into the shoes of Chuck Williams, the founder of Williams-Sonoma, to learn about products that embody the ongoing qualities of WSI. Next, learners explore the many brands of WSI by helping a family fill their house with WSI products to meet their specific wants and needs. Finally, learners meet with three potential WSI customers from around the world to explore the ways in which WSI brands and philosophies are being tailored to a variety of cultures. The goal of this e-learning course is to give the learners a chance to experience, rather than just read about the rich history, expansive brands, and global view of WSI.
"The key to great learning is creativity; the ability to create a situation that teaches and engages at the same time. And in fact, this is exactly why e-learning can be so powerful. You can put the learner in situations that would be difficult to create in a classroom environment," stated Susan Compton, program manager-instructional design, Williams-Sonoma Inc.
The CINDY Awards recognize and celebrate the creative achievements of small and medium sized companies worldwide. Entries in 160+ subject-matter categories of media are judged against a stringent set of standards. Programs included websites, videos, podcasts, webinars, films, commercials, documentaries, and more. The awards were presented to those who have produced programs that achieve the very highest levels of excellence in production value and message effectiveness.
"We are honored to receive this CINDY with Williams-Sonoma, as it is a fantastic recognition of our joint commitment to learning and change," stated Michael W. Allen, chairman and CEO of Allen Interactions.
About Allen Interactions
Allen Interactions creates powerful custom learning experiences that help achieve organizational business goals by improving performance one interaction at a time. With 20 years of deep experience and expertise in instructional design, technology, creativity, process, and project management, Allen Interactions consistently achieves positive business impact. In addition to its services offerings Allen Interactions has an awesome new authoring system, ZebraZapps, which allows developers and non-programmers to create rich interactive media applications easily and quickly, as well as share, publish, and sell objects or entire applications.
More information about Allen Interactions can be found at http://www.alleninteractions.com.
About the Cinema in Industry Awards
Since 1959, the CINDY Awards have been honoring interactive and linear media for both broadcast and non-broadcast applications. CINDY is an acronym for "Cinema in Industry" and originally began as an industrial film competition. It was created by the Industry Film Producers Association (IFPA), an American professional producer's organization. Later, this group became the Informational Film Producers of America and, in 1984, the Association of Visual Communicators (AVC). Today 12 Regional and two International CINDY Awards are proudly presented by the International Association of Audio Visual Communicators (IAAVC), a group that continues to represent theatrical, broadcast, non-broadcast, and interactive media professionals throughout the world. More information about the CINDYs is available at http://www.CINDYs.com.