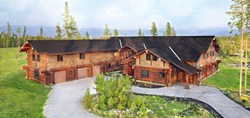 "The current homeowner is very motivated and forward thinking, and was looking for a way to reach a global audience online that would appreciate all this amazing home has to offer," stated Paul Lewis of Coldwell Banker Mountain Properties.
Tabernash, CO (PRWEB) September 17, 2013
Interluxe, the foremost authority in the emerging online real estate auction industry, is delighted to announce the rescheduled auction of a Tabernash ski and golf estate with a significantly reduced minimum bid and incredible bidder incentives. This is a rare opportunity for one lucky buyer to live and play in a locale well known for its abundant cross-country skiing opportunities in winter, and golf, mountain biking, concerts, hiking and fishing options in the spring and summer.
In partnership with Paul Lewis of Coldwell Banker Mountain Properties, Interluxe is reopening the online bidding for this modern and eco-friendly Winter Park estate beginning September 24th. Previously listed at nearly $7 million (and with a recent insurance rebuild cost of $10 million), this home presents the single greatest real estate value in the entire state of Colorado with a minimum bid of only $2.4 million.
"The current homeowner is very motivated and forward thinking, and was looking for a way to reach a global audience online that would appreciate all this amazing home has to offer," stated Paul Lewis of Coldwell Banker Mountain Properties. "When we met the professionals at Interluxe, we knew it was the perfect solution for selling this exceptional property."
This 15,000 square-foot home is perfect for family getaways and entertaining alike, with six bedrooms, seven full baths and three half-baths. It sleeps 18 regularly and has plenty of room to entertain up to 200 guests at events. The residence offers several million dollars of chandeliers, almost half a million slate mosaic tiles, 26,000 linear feet of Engelmann Spruce and Douglas Fir logs, and a million-dollar theater. Yet, this eco-friendly green home is exceptionally energy-efficient with 10 solar panels (and wiring for an additional 58 panels), geothermal and natural gas radiant heating, and four gas fireplaces, resulting in exceptionally minimal operation costs.
Situated in Grand County, Colorado, the property is between the 27 holes of Pole Creek Golf Course and a 260-acre HOA permanent open space filled with nature trails and a lake. Set on approximately three acres with an additional 35 acres and a caretaker/guest cottage available by separate purchase, this property can easily be expanded for horses. It is currently zoned for a lake, gazebo, tennis court and has FAA approval and planning underway for a helipad. There are two private airports in Grand County - McElory Airfield in Kremmling and the Granby Airport in Granby. DIA and downtown Denver are just over a one hour drive away. Two ski resorts, world-class fly fishing and hunting, as well as the Rocky Mountain National Park are also within easy driving distance.
As if owning this property weren't enough of a motivation, the seller is offering fantastic bidder incentives. When the bidding reaches certain predefined levels, the seller will award luxury items to the winning bidder who purchases the property. Incentives range from 2 Grand Pass Ski Medallions, a private executive chef for one year, and even a Bell Jet Ranger helicopter!
"Interluxe is at the forefront of a high-tech shift in how luxury real estate is bought and sold," explained Interluxe President Scott Kirk. "Online auctions, which take advantage of today's extraordinary technology, are already a successful platform for rare artwork, luxury cars, and fine jewelry. With Interluxe, luxury homeowners can now cost-effectively and time-efficiently reach a global audience through auctions. Buyers have a streamlined process through which to conduct their real estate searches and bid on first class homes in a transparent and convenient manner. It truly is a win-win scenario."
Unlike traditional listings where local traffic is the driving factor, online auctions attract a select pool of qualified and highly interested bidders nationwide and beyond, and are gaining favor with sellers of luxury properties who are looking for ways to distinguish their property to a global audience. Through Interluxe's customized professional marketing, home sellers choose from multiple tiers of advertising and marketing services to ensure their property stands out to as many qualified buyers as possible. Agents and sellers get exclusive access to more than 100,000 luxury homebuyers in Interluxe's proprietary database. The results are that agents and sellers get their individual marketing needs met through completely customized promotions.
Buyers are provided access to due-diligence prior to the auction and may tour the property by appointment or at scheduled open houses. There are no contingencies, no hidden terms, and timelines for closing are established. Registration to bid is both easy and secure at http://www.interluxe.com. The final price is set by market demand.
The online auction starts next week, promptly at 11am MDT on Tuesday, September 24, 2013. Open houses are scheduled throughout the auction time period, with previews available by appointment. Buyers may schedule an appointment online or by calling (888) 415-5893. A credit card authorization of $25,000 is required to register to bid. Real estate agents and brokers are fully protected and encouraged to participate.
Interluxe.com is the premier global online gateway where buyers, sellers, and their agents convene in an open market forum to purchase and sell luxury properties valued in excess of $750,000 in destinations all over the world at auction online. Interluxe's platform is the first to exclusively represent high end, non-distressed properties through an accelerated and customized marketing process that obtains fair market value for sellers in a 45-day timeframe. The founder and principles of Interluxe have over 40 years of combined experience in the luxury real estate auction industry. Interluxe is a preferred strategic partner of Grand Estates Auction Company. For more information call (888) 415-LUXE (5893) or visit http://www.interluxe.com.