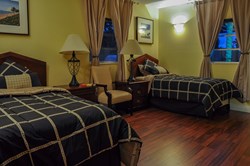 A drug abuse issue can take over your life and adversely impact your job, family and future. Check into a detox center such as Harbor Village and get rid of this terrible addiction as soon as you can. - Robert Niznik, Harbor Village CEO
Miami, Florida (PRWEB) September 19, 2013
In an article by Medical News Today (8/9) titled, Western University scientists discover a novel opiate addiction switch in the brain, neuroscientists at Western University (London, Canada) have discovered how the brain's molecular process, which includes reward memories, triggers drug cravings in individuals addicted to opiates. The results of this study can be read in the September 11 issue of The Journal of Neuroscience.
Drug abuse often starts with an "Ok, I'll try it just once," moment, which then escalates to a life threatening problem. Only a certified, 24/7 medically supervised detox center such as Harbor Village is qualified to assist clients who are suffering from prescription drug issues. Anyone who is experiencing a problem with prescription drugs should check into this state-of-the-art facility.
At Harbor Village, a trained team of medical professionals helps clients achieve recovery from both alcohol and drugs addiction. Located in South Florida, each client receives private drug treatment in a luxury environment featuring upscale accommodations including a beautifully furnished suite with satellite television, over an acre of outdoor lounge area, spa, salon, massage and acupuncture services, nutritious, gourmet dining, limo pickup and transportation to anyhwere in Florida and the personalized support of a caring, attentive staff who is with each client every step of the recovery process.
According to Western University scientists discover a novel opiate addiction switch in the brain, The Addiction Research Group was led by Steven Laviolette of the Schulich School of Medicine & Dentistry. Using rodents as a model, the team identified an area of the brain called the basolateral amygdala, which is related to the types of memories that can affect opiate addiction.
"These findings will shed important new light on how the brain is altered by opiate drugs and provide exciting new targets for the development of novel pharmacotherapeutic treatments for individuals suffering from chronic opiate addiction," says Laviolette, an associate professor in the Departments of Anatomy & Cell Biology, Psychiatry, and Psychology.
"A drug abuse issue can take over your life and adversely impact your job, family and future. Check into a detox center such as Harbor Village and get rid of this terrible addiction as soon as you can," said Robert Niznik, Harbor Village CEO.
For more information, visit: http://harborvillageflorida.com/ 
or call the 24/7 hotline at 1-855-338-6900.
Media Contact: 
Robert Niznik 
Harbor Village 
Miami, FL 
305-999-5728 
robert(at)harborvillageflorida(dot)com