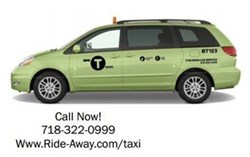 Londonderry, NH (PRWEB) September 17, 2013
In New York City only 231 of the 13,287 yellow cabs can accommodate someone in a wheelchair.
Mayor Michael Bloomberg is working to change this through the HAIL Act, which will send 18,000 new taxis out onto the streets and into the boroughs of NYC that currently don't have reliable Yellow Cab transportation.
The HAIL Act will bring new, Green Apple Taxis to the outer boroughs, 20% of which, 3,600 vehicles, will be fully wheelchair accessible. This is in addition to the 2,000 new accessible yellow medallions that will be auctioned between this Fall and 2015. Now, people with limited mobility will be able to travel the NYC boroughs in a way that is easy, safe, and comfortable.
In light of the HAIL Act, Ride-Away's Commercial Sales taxi division has launched the Green Apple Partners Program, which will help provide base station owners and their drivers an affordable opportunity to own a Green Apple accessible taxi. The first 200 Wheelchair Accessible Taxi medallions have just been released by the NYC Taxi and Limousine Commission (TLC) and Ride-Away is assisting base owners and taxi drivers with the process of securing grants, sales, service, vehicle financing and training to properly serve the disabled community.
Our expert Taxi Consultants can provide assistance in securing up to $25,000 of state and local incentives that are available in return for purchasing a Wheelchair Accessible Vehicle. The Green Apple Partner Program is currently offering a referral fee for each vehicle purchased to encourage the quick adoption of these wheelchair accessible taxis. For more details about the referral fees, contact our Taxi Consultants at 718-322-0999.
Ride-Away Taxis are built by world-class conversion company BraunAbility and are offered as either Wheelchair Accessible Toyota Siennas or Dodge Grand Caravans. These vehicles have a track record of unsurpassed safety and affordable gas mileage, which helps keep them on road and in service for the longest amount of time possible. Our team has over 10 years of experience providing Full Meter Shop services and can provide the TLC required driver training to familiarize new drivers with the features of an accessible vehicle, as well as consulting on how to make wheelchair accessible livery service a profit center for your business.
Wheelchair Accessible Taxi Vehicles are a valuable commodity and are only becoming more and more popular as time passes. For our customers in the outer boroughs, keep your eyes out for these new Green Apple Accessible vehicles in the coming months. If you are a taxi owner or operator, invest in wheelchair accessible taxis for your livery base and become a trusted provider of accessible transportation. You can find out more information on the Green Apple Partner Program website. There you can view our brochure, request more information and apply for our partner program. You can also contact our Taxi consultants today at 718-322-0999 to see how easy and affordable it is to purchase a wheelchair accessible Green Apple Accessible Taxi!