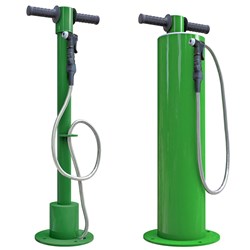 Minneapolis, MN (PRWEB) September 17, 2013
Public bike pumps are becoming more popular – outside of bike shops and along bike paths – but most are not built to endure repeated use and the elements. Dero's new Air Kits are built to last; designed by Dero specifically for the daily punishment that public bike pumps encounter.
Dero continues to offer quality bicycle transit solutions for public use with the expansion of its Air Kit line. Dero introduces two new, heavy-duty bike pumps: Air Kit 2 and Air Kit 3. Dero will continue to offer the original Air Kit – now Air Kit 1.
Air Kit 2 and Air Kit 3 feature a steel body and base, 3-foot hose to easily reach both wheels, gaskets rated from -30 to 100 degrees Fahrenheit, BMX grips, universal head that fits Presta and Schrader valves, and minimal maintenance. They have been put through a robotic test cycle with over 300,000 pumps without failure. New for all Air Kits is a magnetic pump head to make it a snap to attach to the steel body of the pump, keeping the hose off the ground so it lasts even longer.
Both can be powder coated, galvanized, thermoplastic coated, or made with stainless steel. Air Kit 2 may be added to a Dero Fixit (public bike repair stand) or available in surface mount; it does not have a psi gauge. Air Kit 3 includes an oil-filled psi gauge that is weatherproof and will not fog; surface mount only.
New Related Products
Coming Soon! Dero Wheel Catch: A perfect match for any of the Air Kits. It's a steel holder to help keep bikes upright while people are pumping up their bike tires. Just rest your front or rear wheel in the Wheel Catch and voilà!
Dero Bike Hook Solo: This vertical bike rack is a simple, space-efficient way to store and lock-up your bike. The rack includes all necessary hardware for mounting to the wall and an integrated 4-foot security cable; also u-lock compatible. Recommended for home use.
About Dero
Since 1995, Dero has been supplying innovative bike parking and bicycle transit solutions to architects, contractors, municipalities, higher education, and parks and rec. Its bike racks, repair stands, shelters, and lockers are high quality, thoughtfully designed and secure. Dero also offers the award winning Dero ZAP, an automatic system to track bike commuters. Dero is located in Minneapolis and is proud to support biking locally and nationally.