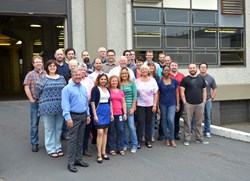 Our region's economic success depends on 'growing-our-own,' investing in industry-leading companies like Viewpoint
Portland, Ore. (PRWEB) September 17, 2013
Coaxis, dba Viewpoint Construction Software®, today announced they will be leasing the historic 1510 Water Avenue building, expanding their headquarters along the Eastside Esplanade in Portland's Produce Row district to make room for a growing employee base. The company has also chosen this time to officially change the company name from Coaxis to Viewpoint Construction Software to better support their brand awareness in the construction industry space.
The 1510 building will be redeveloped into a state of the art space for software development, holding 150-200 technology professionals. Viewpoint is committed to helping foster and grow the technology ecosystem in Portland, and partners with local business leaders and industry associations to best develop business and create jobs in Portland.
Sean Robbins, President and CEO of Greater Portland, Inc. is excited to see the growth of a Portland-based company and notes, "Our region's economic success depends on 'growing-our-own,' investing in industry-leading companies like Viewpoint. Their expansion will bolster our region's leadership in software and it's a great example of what we can achieve when we work together to grow jobs."
The Technology Association of Oregon's President, Skip Newberry, offered this about the Viewpoint expansion. "Oregon's growing software industry is making a big impact on the state's economy by creating high-paying jobs, and as these companies expand, they are serving as catalysts for the development of neighborhoods like the Central Eastside."
Viewpoint CEO Jay Haladay is not only committed to growing Viewpoint's business, but providing compelling work spaces that help attract and retain the talent Viewpoint needs to sustain their focus on providing superior construction technology solutions to the market. The workspaces Viewpoint provides are a reflection of the company's culture – unique and collaborative with a rock solid foundation.
"We at the PDC are excited to work with Viewpoint as they extend their investment in the city. . Viewpoint is one of the leading lights of Portland's growing software industry, and this expansion further solidifies Portland's Produce Row district as one of the most dynamic homes for job creation in the region," commented Patrick Quinton, Executive Director with the Portland Development Commission (PDC).
About Viewpoint Construction Software
Viewpoint Construction Software, providing construction specific software that integrates, has a long-standing focus on meeting the collaborative and information needs of the construction industry by offering construction-specific enterprise resource planning, project and BIM collaboration, mobile field-to-office and enterprise content management solutions. Viewpoint customers include over 30% of the 400 largest U.S. general contractors and has the most technology partnerships with the top 50 mechanical and electrical contractors in the U.S. Viewpoint serves as the technology partner of choice to the construction industry and delivers the right solutions on the right platform, including cloud, SaaS, and on-premise solutions, and provides customers improved accountability, efficiency and productivity throughout the U.S., Canada, the United Kingdom, Europe, the Middle East and Australia. For more information, visit http://www.viewpointcs.com.
© 2013 Coaxis, Inc. dba Viewpoint Construction Software. All Rights Reserved. Viewpoint Construction Software®, Viewpoint V6 Software®, Construction Imaging® and 4Projects® are trademarks or registered trademarks of Coaxis, Inc., dba Viewpoint Construction Software in the United States and/or other countries. Other names and brands may be claimed as the property of others.