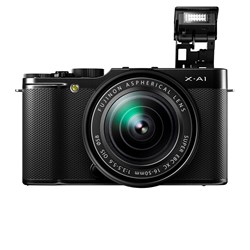 New York, NY (PRWEB) September 17, 2013
FUJIFILM today announced the launch of the X-A1 Compact System Camera (CSC), a new entry-level model within the FUJIFILM premium X-Series camera line. Available for pre-order from leading camera and electronics retailer Adorama (http://www.adorama.com/results/Fuji-X-A1) for a starting price of 599.00 USD, the ultra-light X-A1 CSC gives consumers an affordable entry point into FUJIFILM's X-Series line of digital cameras. In addition to the outstanding image quality thanks to the large 16.3 megapixel APS-C CMOS sensor, the X-A1 also features well-placed operational buttons and dials, a high definition 3" tilting LCD screen, and wireless image transfer capabilities for easy operation and quick photo sharing.
Customers can order the new X-A1 in either indigo blue or black and will receive their camera with the FUJINON XC16-50mm (35mm equivalent to 24-76mm) F3.5-5.6 OIS zoom lens. A versatile lens that is ideal for a wide range of photographic subjects, the XC16-50mm lens consists of 12 all-glass elements in 10 groups including 3 aspherical elements and 1 ED element. The lens also features seven round-edged aperture blades, which offer 17 stops in 1/3 EV increments for precise aperture control.
Also announced and available starting in November, the all-new FUJINON XC50-230mm (35mm equivalent to 76-350mm) F4.5-6.7 OIS lens adds even more versatility to the X-Series line of compact system cameras by offering an expanded zoom range that delivers consistently outstanding optical performance throughout. The XC50-230mm uses optical image stabilization to ensure superb performance and effectively reduces blur when shooting at longer focal lengths and in low light. The new lens is available at 399.00 USD in either black or silver.
FUJIFILM X-A1 CSC Feature Highlights
Large 16.3 Megapixel APS-C sensor and EXR Processor II
The FUJIFILM X-A1 uses an APS-C sensor and powerful EXR Processor II that captures rich tones, breathtaking dynamic range and stunning low-light images using its extended ISO range of up to 25600. With the X-A1, users can set the sensor sensitivity from ISO 200 to as high as ISO6400 in 1/3 step increments, to obtain remarkably clear images even when shooting indoors and at night.
Together with the EXR Processor II, the X-A1 also gives customers fantastic speed with a start-up time of 0.5 seconds in Quick Start Mode, a shutter time lag of 0.05 seconds and a maximum burst speed of 5.6 frames per second.
Compact performance and advanced features
The X-A1 body weighs just 11.6oz and is about a third of the size of a traditional DSLR body. With a slim profile of 1.3" at its trimmest point, the X-A1 enjoys a highly portable form factor.
The X-A1 also features a 3" tilting high-resolution LCD screen with 920,000 dots for easy image viewing and framing at various angles. The 3" LCD monitor tilts at variable vertical angles, facilitating both low-angle and high-angle shots, on or off a tripod.
The X-A1 uses a built-in high-precision flash and Super Intelligent Flash technology that uses scene recognition and automatically controls flash strength to reduce highlight clipping.
Easy Image Transfer with WiFi® button
The X-A1 includes a WiFi button that lets users transfer high-quality photos and movies to social media sites for easy sharing from the camera to smartphones, tablets and computers.
To connect the X-A1 to a smartphone or tablet, users can download the free FUJIFILM Camera Application to their iPhone™ / iPad™ or Android™ smartphone or tablet device to transfer up to 30 pictures at a time from the X-A1. The app also lets users download movies, expanding the range of options available for enjoying pictures taken with the camera.
Intuitive design and easy operation
The X-A1 has its key operation buttons and dials positioned on the right side of the camera's rear panel for easy use and quick picture taking. The Mode Dial for selecting the optimum setting for each scene gives access to the Advanced SR Auto function, which automatically recognizes each scene and selects the best settings for sharp and clear images.
The Advanced Filter function and Film Simulation modes give users a range of creative filters and film effects to apply and achieve unique and artistic looks.
One of the first retailers to get a sneak preview of this brand-new camera, Adorama's team of experts has developed a review article, available now at the Adorama Learning Center (http://www.adorama.com/alc/0014312/blogarticle/Fujifilm-X-A1-Entry-Level-MILC-First-Look).
Pricing and Availability
The FUJIFILM X-A1 CSC kit with XC16-50mm (24-76mm) F3.5-5.6 OIS lens, and separately, the XC50-230mm lens, are both available for pre-order at Adorama (http://www.adorama.com/results/Fuji-X-A1). Orders are filled on a first-come, first-served basis. Credit cards are not charged until the X-A1 is shipped.
ABOUT ADORAMA
ADORAMA: More Than a Camera Store
Adorama is more than a camera store – it's one of the world's largest photography, video, imaging and electronics retailers. Serving customers for more than 30 years, Adorama has grown from its flagship NYC store to include the leading online destination for photography, imaging and consumer electronics. Adorama's vast product offerings encompass home entertainment, mobile computing, and professional video and audio, while its services include an in-house photo lab, AdoramaPix, pro equipment rental at Adorama Rental Company, and the award-winning Adorama Learning Center, which offers free education for photographers in video channels such as the popular Adorama TV.
Adorama is listed as Forbes.com's "Best of the Web" and in the Internet Retailers Top 100, and is the official Photo and Electronics Retailer of the NY Giants.
Visit ADORAMA at http://www.adorama.com.