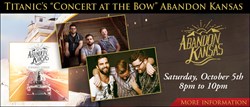 Branson, MO (PRWEB) September 16, 2013
The Titanic Museum Attraction in Branson has announced that "Abandon Kansas" will headline Young Christian Weekend on Saturday, October 5th. Set to perform at the bow on the ship, the band promises to provide a spiritual musical journey for all in attendance. Teens, adults, and families from all over are slated to attend the memorable event.
"We're excited to have this young rock group take the stage at Titanic's bow," says Mary Kellogg-Joslyn, co-owner of the Titanic Museum Attraction in Branson. Mary Kellogg-Joslyn is excited to bring the innovative Christian rock band to the Titanic in Branson. "They're rising stars in the American alternative Christian music community and we're proud to showcase their talents and to give our young audiences a chance to watch them perform."
Abandon Kansas is one of the Midwest's most storied Christian indie rock bands. Hailing from Wichita, Kansas the band has never abandoned their roots. With over 800 headlining tour dates including the national Christian festival circuit and three album releases, the band has found a devoted following nationwide. Band members Jeremy Spring, Nick Patrick, and Brian Scheideman, are overjoyed to bring their talents to the Titanic's bow. The premier event is sure to one remembered for decades.
When searching for things to do in Branson, the Titanic Museum is the foremost family attraction. Full of rich history and educational activities for the entire family. The concert is set to bring generations together to enjoy a night of music at the Titanic's Bow on October 5th.
For more information contact Mary Kellogg/ mkellogg10(at)aol(dot)com
Or visit our web site: http://www.titanicbranson.com
Media photos: http://www.titanicbranson.com/media