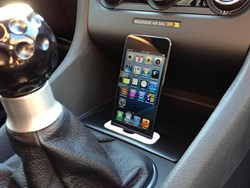 We do extensive testing on every product we release.
Tucker, GA (PRWEB) September 18, 2013
In an industry-leading move, 2point5 announced today new spec.dock models for iPhone 5S and iPhone 5C ahead of the September 20th retail release.
"We want our customers to be able to use their spec.docks with the newest devices from Apple from day one, so we've moved quickly to create new models that work perfectly with the iPhone 5S and 5C," company founder Matt Turner said Monday.
2point5 initially introduced spec.dock at MacWorld in 2005, and since then has set its primary goal as always offering fresh spec.dock models for the newest devices and vehicles. There have been seven years of changes from Apple, from electrical and data updates to connector changes, and spec.dock has always been able to support each and every one.
This latest move is a result of their recent move to in-house dock insert production. The inserts for the new devices are precisely laser-cut by the team at 2point5 to Apple specs and are then thoroughly road-tested to make sure they cradle the iPhone 5S and iPhone 5C perfectly in the spec.dock.
"The last thing we want is damaged connectors or devices," said founder Randy Lively Monday, "so we do extensive testing on every product we release."
The combination of Apple's new Lightning connector and the updated spec.dock models creates a beautifully integrated and secure home for iPod and iPhone in the car.
spec.dock is offered for a number of vehicles from Audi, BMW, Bentley, Corvette, Infiniti, Lexus, Porsche and Volkswagen and can be found on the web here: http://www.specdock.com.