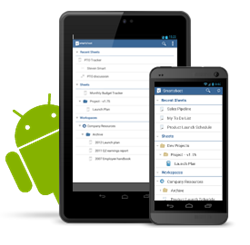 Having all project details at our fingertips in Smartsheet via our mobile devices is critical to productivity and ultimately the success of our business.
Bellevue, WA (PRWEB) September 17, 2013
Smartsheet, the popular spreadsheet-inspired collaboration tool used by more than two million people worldwide, expanded its mobile portfolio today with a new Android app and significantly enhanced iPhone and iPad app.
Smartsheet's new Android app, available in the Google Play Store, the Amazon Appstore and the Kindle Fire Appstore, allows users to access and update project details and collaborate with teams from their Android devices.
"Our team is very mobile, working with clients onsite negotiating leases and managing construction projects at commercial properties across seven states," said Martin Stever, president of Pacific Land West, LLC. "Having all project details at our fingertips in Smartsheet via our mobile devices is critical to productivity and ultimately the success of our business. The added flexibility of having the Android App is a tremendous benefit because it helps us focus on the work at hand, regardless of where we are or what device we choose to use."
New Features for iPhone and iPad App
In addition to the launch of the Android app, Smartsheet added power features to its iPhone and iPad app. New capabilities include interactive Gantt charts and the ability to create new sheets and modify columns directly from devices.
"Our customers increasingly want access to Smartsheet from their mobile devices, as witnessed from the rapid adoption of our earlier versions," said Mark Mader, president and CEO of Smartsheet. "Mobile productivity is fundamental to workplace productivity and we're excited to extend our native mobile offerings and give users the anytime access they expect from the apps they value most."
Customers Using Smartsheet On The Go
As businesses become mobile-dependent, increasingly organizations rely on Smartsheet mobile apps to run daily operational activities. For example:
● When EMTs deliver cardiac arrest patients to the emergency room at Northeast Georgia Medical Center – the top cardiac hospital in the state, they use Smartsheet on an iPad to quickly communicate incoming patient information to cardiologists.
● Colliers International | Wisconsin equips field staff with Smartsheet on tablets and smartphones so they're never without client or property details – whether onsite, in meetings, at the airport, or anywhere in between.
● The team at Rajala Lumber, a fourth generation timber and lumber company in Minnesota, accesses Smartsheet on mobile devices from the forest, the mill, the plant floor and the shipyard to keep operations running smoothly.
Teams in more than 150 countries use Smartsheet to organize, plan and execute a broad spectrum of projects and processes, including marketing campaigns, product launches, business operations, events, strategic planning and HR initiatives. More examples of Smartsheet collaboration on the go can be found on the Smartsheet blog.
About Smartsheet
Smartsheet, a leading Software as a Service (SaaS) company, offers businesses an intuitive online collaboration tool. The ease of use of the familiar spreadsheet-like interface, coupled with file sharing, work automation and Gantt chart features, have made it a popular and highly functional collaboration and project management tool for nearly 2 million users around the world. Additionally, Smartsheet offers pre-built templates and integrations to ensure users are up and running quickly. Visit http://www.smartsheet.com for more details.