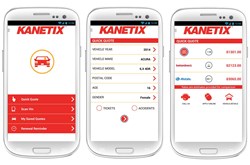 Toronto, Ontario (PRWEB) September 20, 2013
Consumer advocate KANETIX for a variety of insurance and finance-related products is making car insurance quote comparisons easier for consumers with Android Smartphones.
KANETIX has launched an auto insurance quote comparison app for Android phone users – the first of its kind in Canada. The app will feature the following:

Provide car insurance quote comparisons
Rank auto insurance quotes from low to high
Make car shopping easier by having the ability to scan VINs
Create car insurance renewal reminders
Ability to save quote details for repeat visits
KANETIX hopes this app will be the tool of choice for consumers to compare the best car insurance rates for their needs especially for those consumers who are on the go.
"KANETIX understands consumers are looking for convenience especially when they are looking for car insurance. Our car insurance quote comparison app provides this service especially for those customers who are really strapped for time," says Janine White, vice-president of marketplace at KANETIX Ltd.
Whether a consumer has an Android or iPhone device they can easily download KANETIX's free auto insurance quote comparison app by going to KANETIX.ca. Users also have the option of going to the Google Play Store to download the app to their Android Smartphone or going to the Apple App Store to download the app by simply searching for the word KANETIX.
About KANETIX®
Launched in October 1999, KANETIX was Canada's first online insurance marketplace and today provides over a million quotes per year to consumers looking for insurance, as well as comparisons for mortgage rates and credit cards.
The KANETIX comparison service is a one-stop shopping environment for consumers. Each day, thousands visit the KANETIX website at KANETIX.ca to comparison shop their various financial needs. Shoppers choose what they want to compare, obtain a quotation and complete an online application or, with the help of KANETIX connect with the provider to purchase or apply for the product over the phone.
Through its Software as a Service team, KANETIX is also the leading provider of online insurance quotation technology, developing online quotation systems, mobile solutions, actuarial tools and websites for many of Canada's largest insurance brands.
For more information, visit KANETIX.ca or contact:
Natasha Carr
416.599.9779 ext. 343
publicrelations(at)KANETIX(dot)ca
KANETIX Ltd.