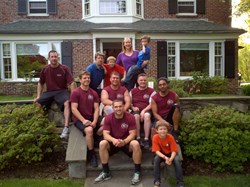 The consistent execution of moves with unmatched customer service has given Gentle Giant an unparalleled reputation in the moving industry.
Somerville, MA (PRWEB) September 19, 2013
Gentle Giant Moving Company, a premier residential moving and storage company headquartered in Massachusetts with 20 locations across the country, today announced that their non-stop work in August broke all prior single month records for revenue, number of moves, and number of direct labor hours in the company's 33 year history.
Throughout the summer, Gentle Giant performed an expected high volume of local moving shipments, but cites the consistent growth of its interstate moving services, investments in new geographic regions, and strong customer referral and repeat business as three main factors in its recent revenue and labor milestones.
Summer 2013 Highlights
Interstate Moving Services: Investments in employee development, training, and equipment has generated considerable growth for Gentle Giant's long distance moving division, which has performed over 1,140 moves already this year, an eight month record. The company is also on pace to shatter the standing company record for the number of interstate shipments completed in a year.
Geographic Expansion: In 2006, Gentle Giant began a steady but tactical expansion of their brand across the country with a warehouse in Westchester County, New York. The company has since opened offices in North Carolina, Virginia, Washington DC, Charlotte, Seattle, San Francisco, and Chicago. The addition of new office locations outside of New England has enabled the company to further develop its interstate business line and increase overall revenue and shipment counts through local services in these regions.
Strong Customer Referral and Repeat Business: A fundamental component of Gentle Giant's mission is to make every customer a "customer for life." Gentle Giant Moving Company prides itself on earning 80% of its business from referrals and repeat customers. In 1980, Gentle Giant Founder Larry O'Toole began running on moves and providing a 100% Satisfaction Guarantee, and that got the people of Boston talking about Gentle Giant. "The consistent execution of moves with unmatched customer service has given Gentle Giant an unparalleled reputation in the moving industry," explains O'Toole. "The Giants begin each job prepared to give their customer the best moving experience they've ever had."
Gentle Giant will take the calmer time this Fall and Winter to focus on further employee training and development at Headquarters and across the country. Additionally, the company will roll out plans for their next branch location launch.
About Gentle Giant Moving Company, Inc.
Founded in 1980, Boston-based moving company Gentle Giant is an award winning residential and commercial mover, offering local moving, long distance moving, and international moving services. Named 2009 Independent Mover of the Year by the American Moving and Storage Association, one of the Boston Business Journal's Best Places to Work in Massachusetts in 2004, 2005, and 2006, winner of the 2006 International Torch Award for Marketplace Ethics by the Better Business Bureau, winner of the Better Business Bureau's Torch Award for Excellence in 2002, 2003, 2005 and 2008, nine-time winner of Boston Magazine's "Best of Boston," six-time winner of The Improper Bostonian's "Boston's Best Moving Company" award, twelve-time winner of the Angie's List "Super Service" award, 2007 Top Small Workplaces award from the Wall Street Journal and Winning Workplaces, and named a Healthiest Employer in 2013 by the Boston Business Journal, the company's services include craning, piano moving, complete packing and unpacking services, and other related services. Gentle Giant offers storage facilities and dispatches crews from more than 19 offices in California, Chicago, Massachusetts, New Hampshire, New York, North Carolina, Rhode Island, Virginia, Washington, DC and Washington State. For more information, please call (617) 661-3333 or visit http://www.GentleGiant.com.