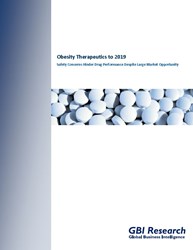 Rockville, MD (PRWEB) September 19, 2013
Obesity Therapeutics to 2019 - Safety Concerns Hinder Drug Performance Despite Large Market Opportunity
GBI Research, the leading business intelligence provider, has released its latest research, "Obesity Therapeutics to 2019 - Safety Concerns Hinder Drug Performance Despite Large Market Opportunity". Obesity is often described as a global endemic, with incidence dramatically increasing over the past decades, particularly in developed countries.
Being overweight or obese is a major risk factor in the development of many chronic diseases, including cardiovascular diseases, cancer, and diabetes, of which treatment incurs extensive economic and healthcare costs. Numerous anti-obesity drugs have been approved in the past decade, including Knoll Pharmaceutical's Meridia (sibutramine) and Acomplia (rimonabant), only for them to be removed from the market due to evidence of suicidal thoughts, depression and cardiovascular problems with their long-term use. As such, healthcare professionals have a negative perception of such drugs and do not widely prescribe them, a major barrier to the growth of the anti-obesity therapeutics market.
Only Orlistat is currently deemed safe for the long-term treatment of obesity; being proven to produce a placebo-adjusted weight-loss average of a limited 3kg. Two anti-obesity drugs were approved in June and July 2012, and GBI Research believes that only one, Vivus' Qsymia, has a strong enough safety and efficacy (average placebo-adjusted weight loss of 5kg at the medium dose) profile to make a significant impact on the market, providing it is proven safe in long-term-use studies. If proven safe, GBI Research expects the sales of Qsymia and other drugs expected to be approved over the forecast period to increase the market size to $2.7 billion. Although moderate, this is significantly below the market potential given the size of the prevalence population. Optimally safe and effective anti-obesity drugs which overcome healthcare professionals' negative opinions will have to be developed if the size of the market is ever to reflect the prevalence of obesity.
To order this report:
Obesity Therapeutics to 2019 - Safety Concerns Hinder Drug Performance Despite Large Market Opportunity
Contact: Shauna
800.298.5699
Customerservice(at)marketresearch(dot)com
About MarketsandMarkets
The MarketsandMarkets edge: Worldwide, market research reports are primarily sold for numbers, market segmentation and competitive landscape, within the business leaders.
The analyst working with MarketsandMarkets come from the renowned publishing houses and market research firms globally adding their expertise and domain understanding. We get the facts from over 22,000 news and information sources, a database of hundred thousands of key industry participants and draw on our relationship with more than 900 market research companies globally.
In course of our ongoing relationship with research partners for over a period of three years, our clients have discovered that we can not only head-start any given research project immediately but also execute it in a stipulated time frame. We always prioritize our commitments of confidentiality. The fact that a high percentage of our business comes from client referrals bears ample testimony to the quality of our market research reports.
About MarketResearch.com
As the industry leader in market research, Marketresearch.com helps you make the difficult corporate decisions you face every day. We provide consumer research and business data to guide you through the complex and dynamic business world in which we work. We are analysts and account managers, writers and publishers and we all share the same goal – to help you better understand your customer, market and competition; and to help you drive your business growth.
Call us, email us, like us, or follow us – but do get in touch. We're here to help.
For more information, call Cindy Frei at 240.747.3014 or visit us at MarketResearch.com.
Follow us on Facebook http://www.facebook.com/marketresearchdotcom
Follow us on Twitter http://www.twitter.com/marketresearch_
Obesity Therapeutics to 2019 - Safety Concerns Hinder Drug Performance Despite Large Market Opportunity – Table of Contents:
1 Table of Contents
2 Introduction
2.1 Etiology and Pathophysiology
2.2 Classification
2.3 Epidemiology
2.3.1 The US
2.3.2 Obesity in the Top Five European Markets
2.3.3 Japan
2.4 Comorbidities
2.4.1 Type 2 Diabetes
2.4.2 Hypertension
2.4.3 Dyslipidemia
2.4.4 Respiratory Problems
2.4.5 Osteoarthritis
2.4.6 Cancer Risk
2.5 Economic Burden
2.6 Current Therapy Options
2.6.1 Lifestyle and Behavioral Modifications
2.6.2 Bariatric Surgery
2.6.3 Pharmacotherapy
2.6.4 Treatment Algorithms and Prescription Habits
2.6.5 Method of Determining Treatment Effectiveness
2.7 Why Develop Therapeutic Anti-obesity Drugs?
3 Marketed Products
4 Pipeline
4.1 Overview of Pipeline by Phase, Molecule Type and Molecular Target
4.2 Clinical Trial Duration and Size
4.2.1 Clinical Trial Duration
4.2.2 Clinical Trial Size
4.3 Clinical Trial Failure, Attrition Rate and Reasons for Clinical Trial Failure
4.4 Primary and Secondary Endpoints
4.5 Late-stage Drugs of the Developmental Pipeline
4.5.1 Contrave, Orexigen Therapeutics
4.5.2 Cametor, Norgine BV
4.5.3 Victoza, Novo Nordisk
4.5.4 Tesofensine (NeuroSearch)
4.6 Discussion
5 Market Forecasts
6 Licensing and Co-Development Deals
7 Appendix
1.1 List of Tables
Table 1: BMI Classifications
Table 2: Key Components of Pathways Thought to be Related to Obesity
Table 3: Treatment Options Dependent on BMI
Table 4: Obesity Therapeutics, Leading Brand Names of Phentermine
Table 5: Efficacy Results* for Qsymia at 52 Weeks
Table 6: Changes in Key Safety Parameters in Patients Treated with Qsymia
Table 7: Sales Data for Xenical ($m), 2008–2011
Table 8: Efficacy Results for Orlistat as an Initial and Maintenance Therapy
Table 9: Safety Results of Orlistat
Table 10: Efficacy Results for Belviq
Table 11: Placebo-adjusted Safety Results for Belviq
Table 12: Obesity Therapeutics Market, Global, Common Molecular Targets in the Obesity Pipeline
Table 13: Obesity Therapeutics Market, Global, Average Clinical Trial Size for the Most Common Modes of Action Amongst Pipeline Drugs, 2006–2013
Table 14: Obesity Therapeutics Market, Global, Average Clinical Trial Duration for the Main Modes of Action Amongst Pipeline Drugs, 2013
Table 15: Contrave, Phase III Clinical Trial Results
Table 16: Contrave, Efficacy Results, Phase III Clinical Trial
Table 17: Cametor, Efficacy Results of a Phase II Clinical Trial
Table 18: Cametor, Safety and Efficacy Results, Phase III Clinical Trial
Table 19: Victoza, Clinical Trial Results, Phase III Clinical Trial, 2009
Table 20: Victoza, Clinical Trial Results, Phase III Clinical Trial, 2009
Table 21: Victoza ,Safety and Efficacy Results, Phase III Clinical Trial, 2009
Table 22: Obesity Therapeutics Market, Europe, Current Prevalence Rate of the Population Which is Obese or Overweight, 2012–2019
Table 23: Obesity Therapeutics Market: Global, Developmental Pipeline, Discovery Phase
Table 24: Obesity Therapeutics Market: Global, Developmental Pipeline, Preclinical Phase
Table 25: Obesity Therapeutics Market: Global, Developmental Pipeline, Phase I
Table 26: Obesity Therapeutics Market: Global, Developmental Pipeline, Phase II
Table 27: Obesity Therapeutics Market: Global, Developmental Pipeline, Phase III
Table 28: Obesity Pharmacotherapy Market: Global, Developmental Pipeline, Pre-Registration
Table 29: Obesity Therapeutics Market, Global, Market Forecasts, 2012–2019
Table 30: Obesity Therapeutics Market, US, Market Forecasts, 2012–2019
Table 31: Obesity Therapeutics Market, UK, Market Forecasts, 2012–2019
Table 32: Obesity Therapeutics Market, France, Market Forecasts, 2012–2019
Table 33: Obesity Therapeutics Market, Germany, Market Forecasts, 2012–2019
Table 34: Obesity Therapeutics Market, Italy, Market Forecasts, 2012–2019
Table 35: Obesity Therapeutics Market, Spain, Market Forecasts, 2012–2019
Table 36: Obesity Therapeutics Market, Japan, Market Forecasts, 2012–2019
1.2 List of Figures
Figure 1: Obesity, Global, Prevalence (%), 1990–2010
Figure 2: Effects of Topiramate on Food Intake
Figure 3: Obesity Therapeutics Market, Obesity Drug Approvals and Market Removals
Figure 4: Obesity Therapeutics Market, Heat Map Comparing the Safety and Efficacy of Marketed Drugs
Figure 5: Obesity Therapeutics Market, Heat Map Comparing the Performance of Marketed Drugs in Major Safety Parameters
Figure 6: Obesity Therapeutics Market, Global, Pipeline by Phase and Molecule Type and Molecular Target
Figure 7: Obesity Therapeutics Market, Global, Clinical Trial Duration by Phase and Molecule Type, 2006–2013
Figure 8: Obesity Therapeutics Market: Global, Clinical Trial Size by Phase and Molecule Type, 2006–2013
Figure 9: Obesity Therapeutics Market, Global, Clinical Trial Failure and Attrition Rates by Phase and Molecule Type, 2006–2013
Figure 10: Obesity Therapeutics Market, Global, Clinical Trial Primary and Secondary Endpoints, 2006–2013
Figure 11: Heat Map Comparing the Safety and Efficacy of Marketed and Key Pipeline Drugs
Figure 12: Heat Map Comparing the Performance of Marketed and Key Pipeline Drugs in Major Safety Parameters
Figure 13: Obesity Therapeutics Market, Global, Epidata and Market Forecasts, 2012–2019
Figure 14: Obesity Therapeutics Market, US, Epidata and Market Forecasts, 2012–2019
Figure 15: Obesity Therapeutics Market, Europe, Treatment Patterns, 2012–2019
Figure 16: Obesity Therapeutics Market, Europe, Annual Cost of Therapy, 2012–2019
Figure 17: Obesity Therapeutics Market, Europe, Market Forecasts, 2012–2019
Figure 18: Obesity Therapeutics Market, Japan, Epidata and Market Forecast, 2012–2019
Figure 19: Obesity Therapeutics Market, Global, Status, Value and Number of Licensing Deals, 2006–2013
Figure 20: Obesity Therapeutics Market, Global, Licensing Deals by Phase, Molecule Type and Value, 2006–2013
Figure 21: Obesity Therapeutics Market, Global, Status, Value and Number of Co-development Deals, 2006–2011
Figure 22: Obesity Market, Global, GBI Research Market Sizing Model