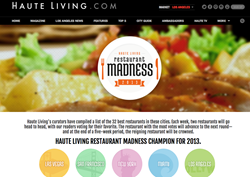 New York, NY (PRWEB) September 17, 2013
Haute Restaurant Madness is about to begin! The luxury restaurant voting contest starts at midnight on Wednesday, Sept. 18, and fine dining lovers are gearing up for a fierce competition. Haute Restaurant Madness lets readers vote for their favorite restaurants in New York, Miami, Los Angeles, San Francisco and Las Vegas — pitting the each city's most beautiful and tasteful restaurants against each other in the ultimate luxury competition. Only one fine dining establishment in each city will survive as the Haute Restaurant Madness Champion of 2013.
This year, we'll see classic establishments up against new openings with celebrity chefs. Every week, two of these incredible restaurants will go head-to-head in the Haute Restaurant Madness competition, with our discerning readers voting to determine which of the 32 eateries per city move on to the next round, until reaching the final two to complete for Haute Restaurant Madness Championship.
Haute Restaurant Madness follows in the footsteps of the hugely successful Haute Time Madness, Haute Hotel Madness, and Haute Auto Madness, when readers had the chance to choose their favorites in those categories.